In a recent response to a FOIA request on Rudolf Abel and the Hollow Nickel case, the Federal Bureau of Investigation included a 13 page section describing the FBI's assistance to an author writing a series of articles about the Bureau. At least some of the articles appear to have been based on the film The FBI Story, which FBI Director J. Edgar Hoover reportedly had a strong hand in the production of, including prompting reshoots.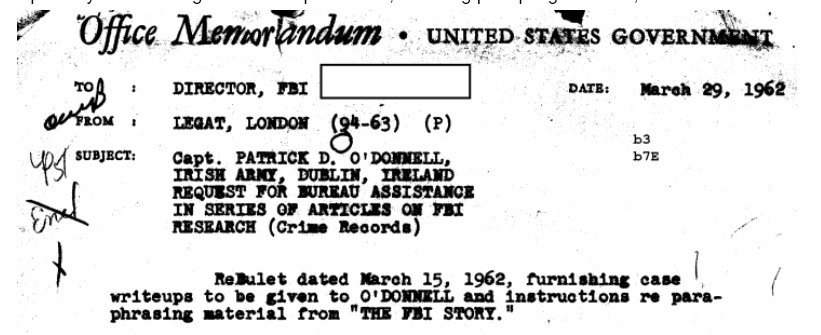 According to the file, Patrick D. (possibly short for Denis) O'Donnell, had written the FBI requesting assistance with an article. O'Donnell was provided with FBI write ups to use as a source, and it was requested that the Bureau be allowed to review his articles to keep them "within the bounds of authenticity and accuracy." The request was sent to Hoover by the Legat office in London. While the draft article indicates that Hoover did indeed review the article, the Bureau's "fact check" of that particular statement is ambiguous.

Apparently this was to be the first in what would be a series of articles about Colonel Abel, of Bridge of Spies fame, and the now-lesser known Hollow Nickel case. The FBI reviewer checked off statements that were true and made notes of corrections in several other places.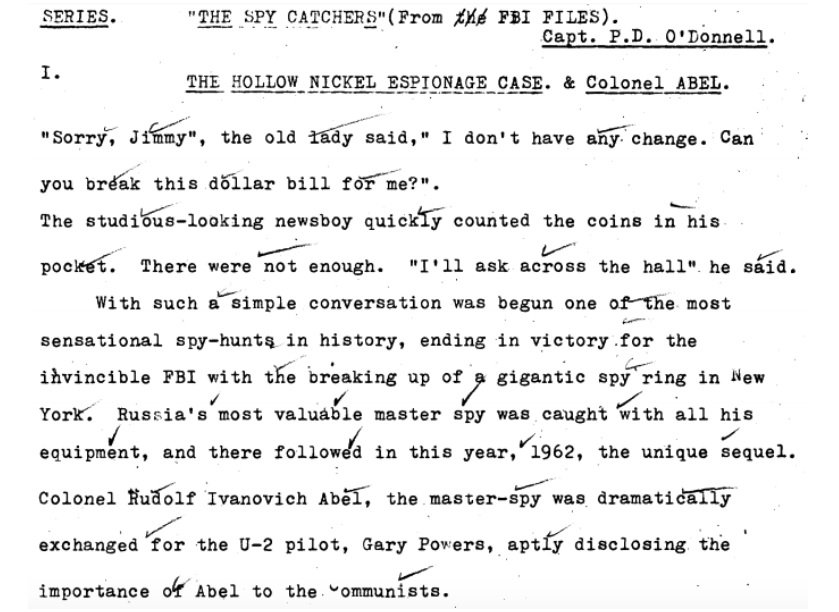 For instance, the Bureau confirmed that while they don't always get their man, they affirmed that they never give up - sometimes resulting in a high profile success.

The FBI also confirmed that number ten of Hoover's "Ten Commandments of the G-man" was loyalty and devotion.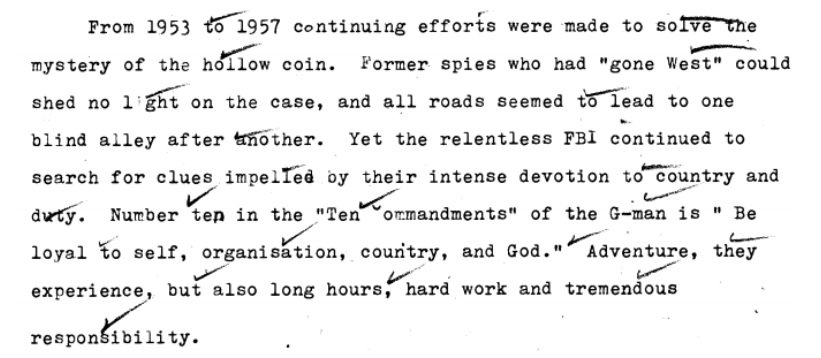 While some of the corrections concerned minor details, others seemed more focused on optimizing the language to improve public perception of the Bureau.

Other corrections simply make things more vague for reasons that aren't immediately clear.

In one instance, the FBI was happy to credit themselves, and not the Army, with responsibility for locating and the subsequent successful court martial of Sergeant Roy Rhodes.

As for whether the corrections not only went through his office, but were personally made by Hoover, the FBI reviewer would neither confirm nor deny. They did, however, strikethrough the section stating that one of Hoover's Special Agents had flown from London with the files. The entire section was ambiguously highlighted, with a question mark written at the end.

You can read the exchange of memos below along with the entire set of confirmations and corrections, or the rest on the release page.
---
Like Emma Best's work? Support her on Patreon.
Image via Piximus.net