Last fall, in the wake of news that Louisiana's Jefferson Parish would be moving to video-only visitation, MuckRock began requesting materials from parish law enforcement throughout the state.
We were intent on learning a bit more about the rules governing visitation in other areas, and, relatedly, we wanted to know more about how phone access is being provided and paid for in each of these areas, in part because many sheriff's departments receive significant commissions on the high phone costs being charged to inmates - sometimes as much as 60% of the phone call bills. Such additional financial burdens significantly affect the ability of prisoners to contact family and loved ones, further isolating and debilitating the incarcerated.
Since then, we've received a few complete responses to our requests, as well as a bill from Jefferson Parish asking for $250 for all of the responsive materials. (If you'd like to contribute to paying for these materials, feel free to donate to our crowdfund on the request page.)
Union Parish, on the Arkansas-Louisiana border, has informed us that they received a 60% commission on their contract with Correct Solutions Group.

CSG, as is typical of these type of agreements, also provided the equipment for the phone system at no cost to the prison facility.
Meanwhile, in Bienville Parish, the Department appears to owe their phone service provider City Tele Coin money, despite a 40% commission, in part due to an advance of $58,000 provided by the phone company to the Parish when the agreement was signed in January 2002.

City Tele Coin also provides services to Red River Parish at a 57% commission.
Washington Parish also receives a 57% commission from its contract with Ally Telecom Group. The agreement specifically speaks to potential regulations imposed by the Federal Communications Commission, which has attempted to place restrictions on exorbitant prison phone costs in the past, though the current administration eliminated those previous moves as they related to interstate calling.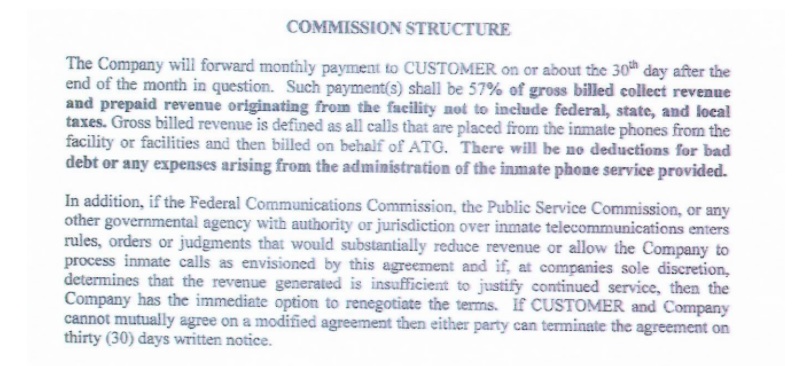 We're still collecting materials from the other Louisiana parishes, but the need for interrogation of these contracts and pricing incentives remains strong. Help us out by letting us know where you live at via email, on Twitter, or on Facebook. The Jefferson Parish request crowdfund is embedded below.
---
Image via ACLU