Over the years, FOIA officers and records custodians have helped MuckRock release over three million government documents. With 2018 coming to a close, we cannot forget about those who helped make government transparency a reality this year.
For the fourth year in a row, we've asked MuckRock users to share their success stories of agencies going above and beyond to fulfill public records requests. We've also totaled the number of times MuckRock users used our "Say Thanks" feature to let agencies know how much they appreciate their work.
Government oversight is, in part, made possible by those star individuals who help process our records requests. To celebrate a successful year, we're sharing our favorite record stories and recognizing agencies who've received the most praise for a job well done this year.
MuckRock Executive Editor JPat Brown shared his success in working with Public Records Access Officer Seah Levy to get his request fulfilled. He shares that the agency was responsive, worked with him to narrow the request, and he got the records in a quick and timely manner. On top of it all, the agency didn't charge him for any duplication costs!
Tim Shorrock, via Twitter, shared his experience with the U.S Army's Training and Doctrine Command. He was able to talk to a FOIA officer at the agency who walked him through the records process. Something he calls, "highly unusual"
I had a FOIA officer at US Army's @TRADOC who went way above and beyond to make sure my request went to the right people. She actually called me a couple of times to help walk me through the process with my search. Highly unusual.

— Tim Shorrock (@TimothyS) December 17, 2018
One requester said they were able to get financial statements and other budgetary documents from these Illinois agencies, thanks to officer Robert Osgood. Financial records are often difficult to get, but this person gives kudos to the the Prairie State
Another requester was able to get records from the Niagara Parks Commission and found a records custodian who communicated at every step of the way, saying " [They] constantly provided information on the scope and availability of the records I was seeking."
Lastly, but far from the least, James LaPorta filed a FOIA for command climate surveys and was successful in getting those records released, thanks to the assistance of Sally Hughes, the Marine Corps FOIA Public Liaison.
This year's requests could not have been made possible without the help of outstanding agencies who make the FOIA process a lot smoother. MuckRock users are grateful and have sent dozens of "Thank You" messages to different agencies ranging from the Federal Bureau of Investigations to the San Diego Police Department. Here are the top ten agencies that received the most gratitude from MuckRock users this past year: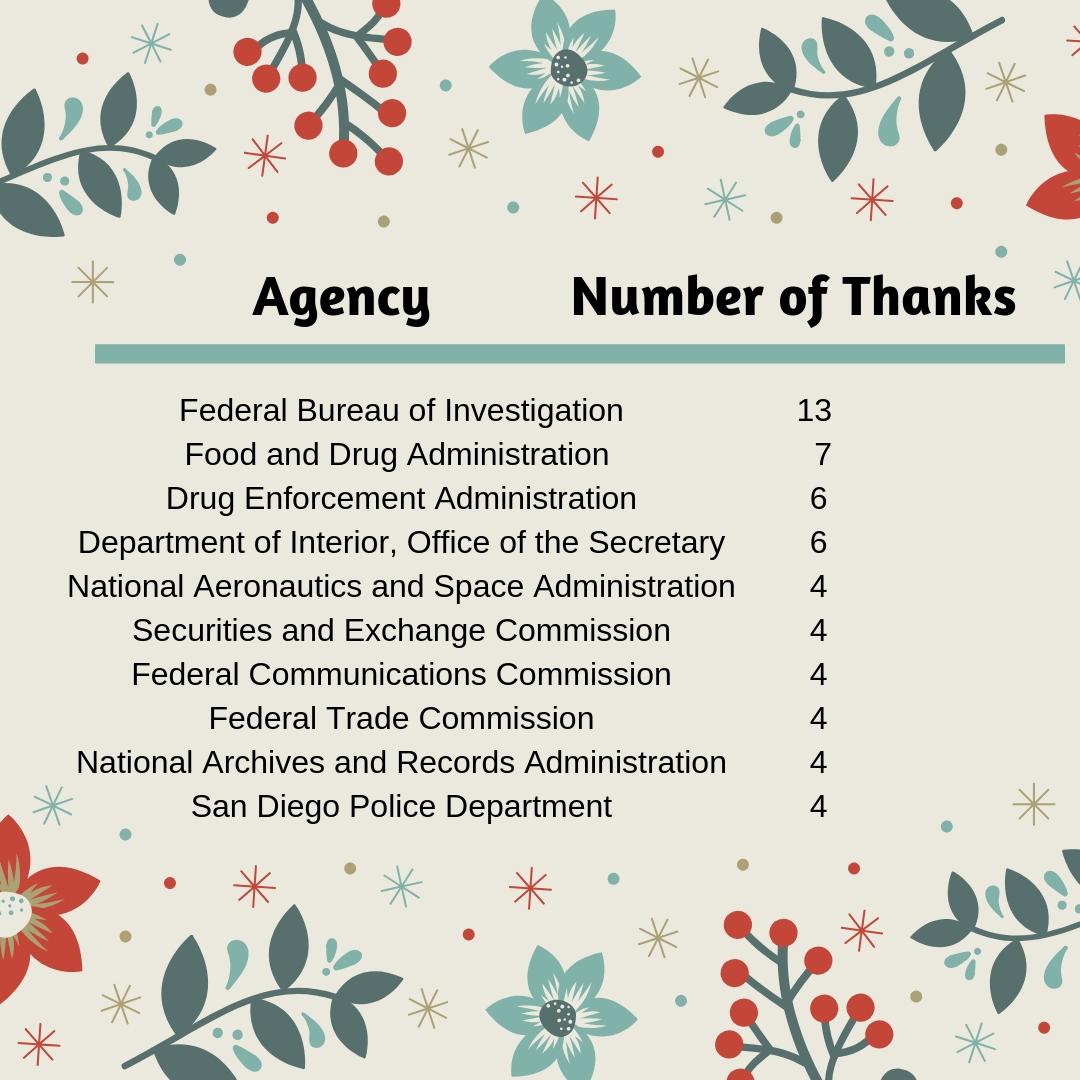 From all us at MuckRock, thank you, FOIA officers. We're looking forward to a very transparent new year.
---
Image via U.S. Department of Defense