The official record on the 2015 death of Mikhail Lesin deems the event an accident, the result of falling and suffering a number of "blunt force injuries" in his hotel room after a days-long alcohol binge.

While others have thrown doubt on that account, attributing the unexpected demise at the Dupont Circle Hotel of the media magnate and one-time press minister for Russian President Vladimir Putin to more nefarious external actors, materials released by the Federal Bureau of Investigation - which became involved in the Washington, D.C. death investigation as part of the Metropolitan Police Department's homicide investigation - don't contradict the accidental death determination.
The file primarily reflects the FBI Operational Technology Division's review of surveillance footage from the hallway outside Lesin's hotel room …

which they determined had not undergone tampering.

It also contains almost-entirely redacted versions of the Chief Medical Examiner's autopsy report.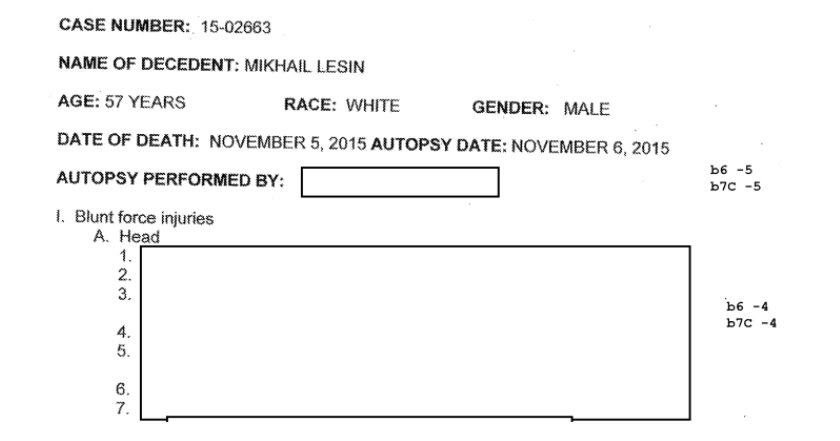 While the public stance remains that the death of the RT founder was a matter of alcohol-induced circumstance, recents reports suggest that there are more materials in FBI possession, including a report by Christopher Steele, author of the dossier asserting Russian involvement in Donald Trump's presidential campaign, which claims the Lesin death was facilitated by individuals affiliated with Russia.
Read the first part of the file embedded below or on the request page.
---
Image by Kremlin.ru via Wikimedia Commons and is licensed under CC-BY 4.0