California has been ground zero for sexual assault legislation in the last few years. After allegations against Bill Cosby came to light, Gov. Jerry Brown signed into law legislation that eliminated the statute of limitations for rape and sexual assault. In 2015, Stanford University student Brock Turner was charged with raping an unconscious woman and only served half of his already lenient 6 month sentence, inspiring yet more legislation calling for a mandatory minimum prison sentence for those convicted of similar crimes.
It's no surprise, then, that San Jose has already rewritten their penal code to test every backlogged rape kit in their system.
Their law was amended on Jan. 1st, 2016, and states that kits must be sent to the crime lab within a 20-day time period, and that DNA profiles must be uploaded into the Combined DNA Index System (CODIS) within 120 days.

The records we received indicate that, between July 1st, 2012 and April 30th, 2017, 713 kits have been collected by the San Jose police department. As of May 1st of this year, there were 99 kits sitting untested in evidence collection rooms.
But not all of these kits are counted in their backlog, which as of May 10th, they tallied at 44.

These documents show that the San Jose police department is one of many in the country that doesn't see the value in testing all kits. It's not just that they have a backlog – it's that some kits in their possession are legally allowed to remain untested.
A memorandum, written in 2016, states four circumstances under which a sexual assault evidence collection kit does not need to be tested.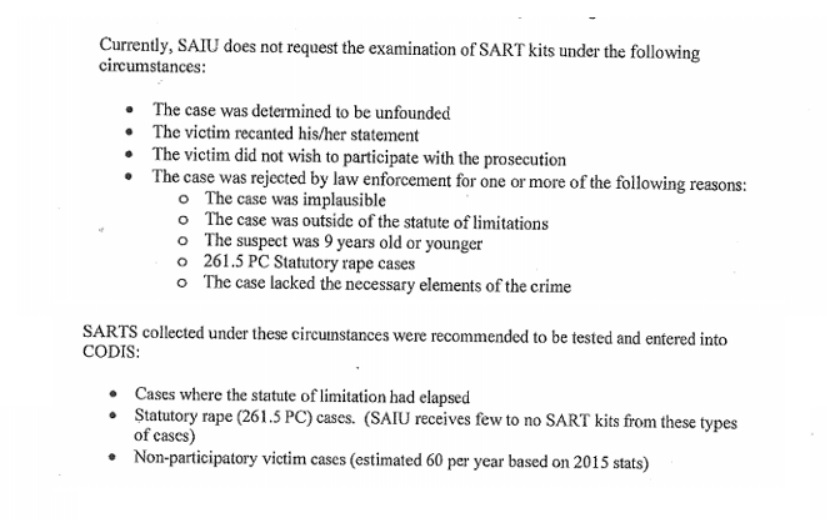 They do recommend testing some of them, but it isn't mandated.

Roughly 60 kits each year going untested because the victim didn't want to prosecute translates into many offenders that will not be uploaded into the DNA database. Likewise, DNA evidence not being tested and uploaded into CODIS just because the perpetrator's identity is already known is incredibly short-sighted.
Ending the backlog isn't just about punishing one specific criminal for one specific crime. It is about treating sexual assault as seriously as other violent crimes. It is about preventing future offenses and finding serial offenders by maintaining a robust DNA database. It is about exonerating those falsely accused.
These are all things assistant attorney general Terry Harman, according to a 2013 email, believes she is preventing by not testing kits.

But Harman is wrong. Ethical issues that come with analyzing a kit for an innocent person's DNA should be weighed against the ethical issues of imprisoning the innocent – something that does happen and something that proper DNA testing can prevent. Such was the case with 57-year-old Michael Phillips, who was released from prison and cleared of charges after a previously untested rape kit revealed the true perpetrator.
A lack of funding and staff should no longer be a viable excuse for improper sexual assault evidence collection and examination. Sexual assault is criminal, violent, and often leads to PTSD and suicide. There would be outrage if other crimes were handled in this nature. It's time we are outraged about this, too.
Want to get involved? Enter your local agency into the Google Form below, and MuckRock will submit a request for free on your behalf.
This piece is part of our ongoing project examining sexual assault evidence collection policies and the rape kit backlog. Follow along on the project page, and help us continue to fund these records requests and reporting by donating below.
---
Image via Cuyahoga County Prosecutor