We're one week into our annual competition for Fastest FOIA Agency, and MuckRock's March Madness is beset with upsets and outliers. Finishing up the first round this past weekend (March 19), we've already seen a lot of solid moves this week, so be sure to check back in next Tuesday to find out whether Round Two is where we see a contender with a clear competitive edge.
C.R.E.A.M.
The stakes were high in our cash-themed "C.R.E.A.M." bracket, which had last year's champion, the U.S. Department of Agriculture, pitted against the Small Business Administration for the first round. USDA's acknowledgment letter showed up six days after submission, swift enough, maybe, in everyday life but not quick enough to cut it in this year's March Madness. The SBA showed up ready to play with a same-day acknowledgment, dethroning last year's top dog and ensuring that a new name will appear on our testaments to the Fastest FOIA Agency.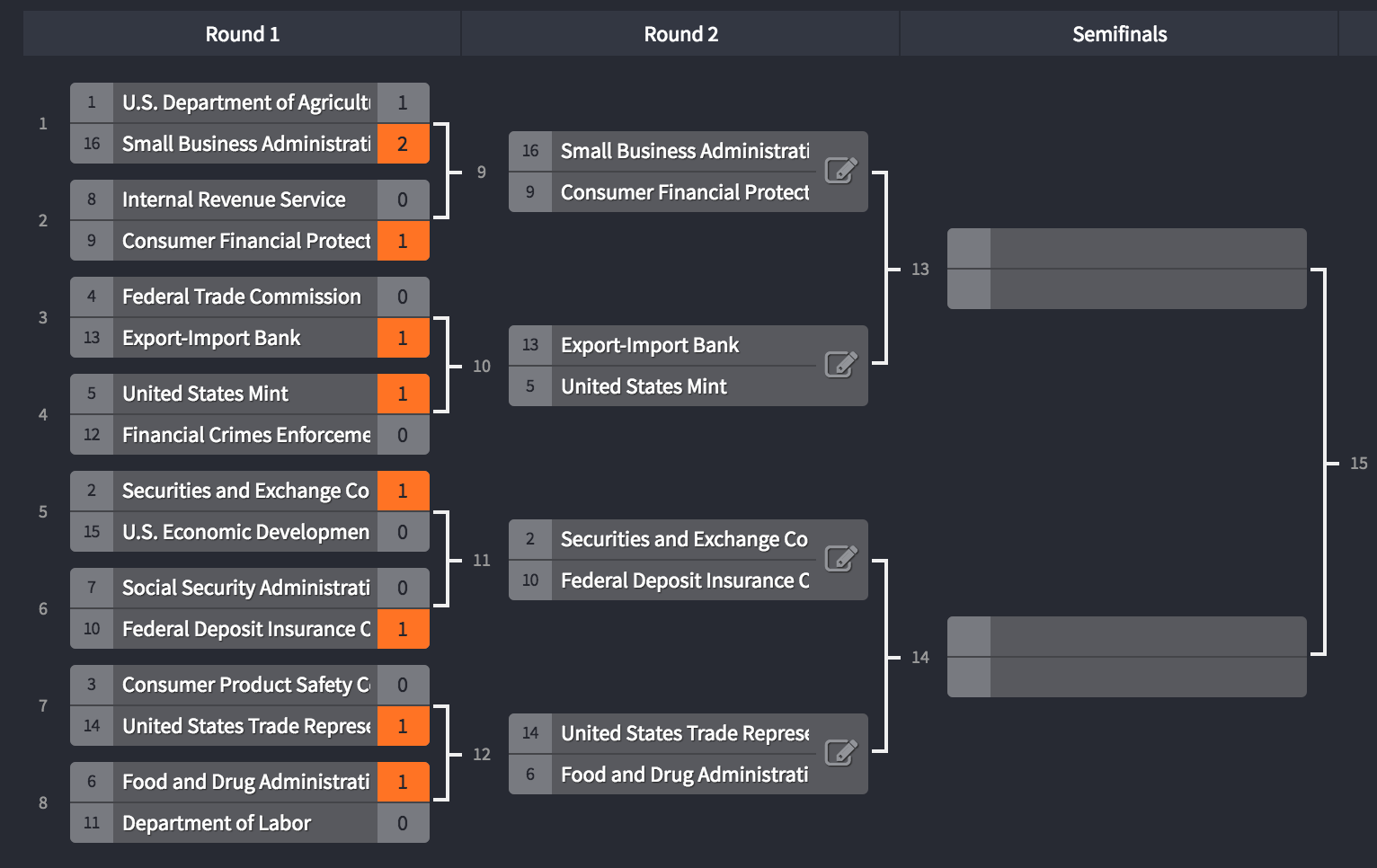 Elsewhere in the bracket, the U.S. Trade Representative easily advances over the others. Within two days of receiving our request, they supplied their FOIA logs and appeal responses. Highlighting the dearth of appeal action, their log only lists 11 of them in the last two years. But they can't claim the champ stamp yet; we haven't seen any of the initial appeal letters from the few requesters who challenged their decisions and occasionally won.
Equally impressive was the Securities and Exchange Commission, who had a great showing out of the gate but seems bogged down by a difference in the sheer number of appeals the agencies gets; by their estimate—and in stark contrast to agencies like USTR—they've received about 1300 appeals (over 100 times as many) in the last two years.
Bring Da Ruckus
No one agency has brought anything like a ruckus so far, though the Federal Maritime Commission is well on its way to finishing up, given what looks like a total lack of appeals in recent memory; the GSA, even with its almost-instant acknowledgement, was in a tough spot up against that.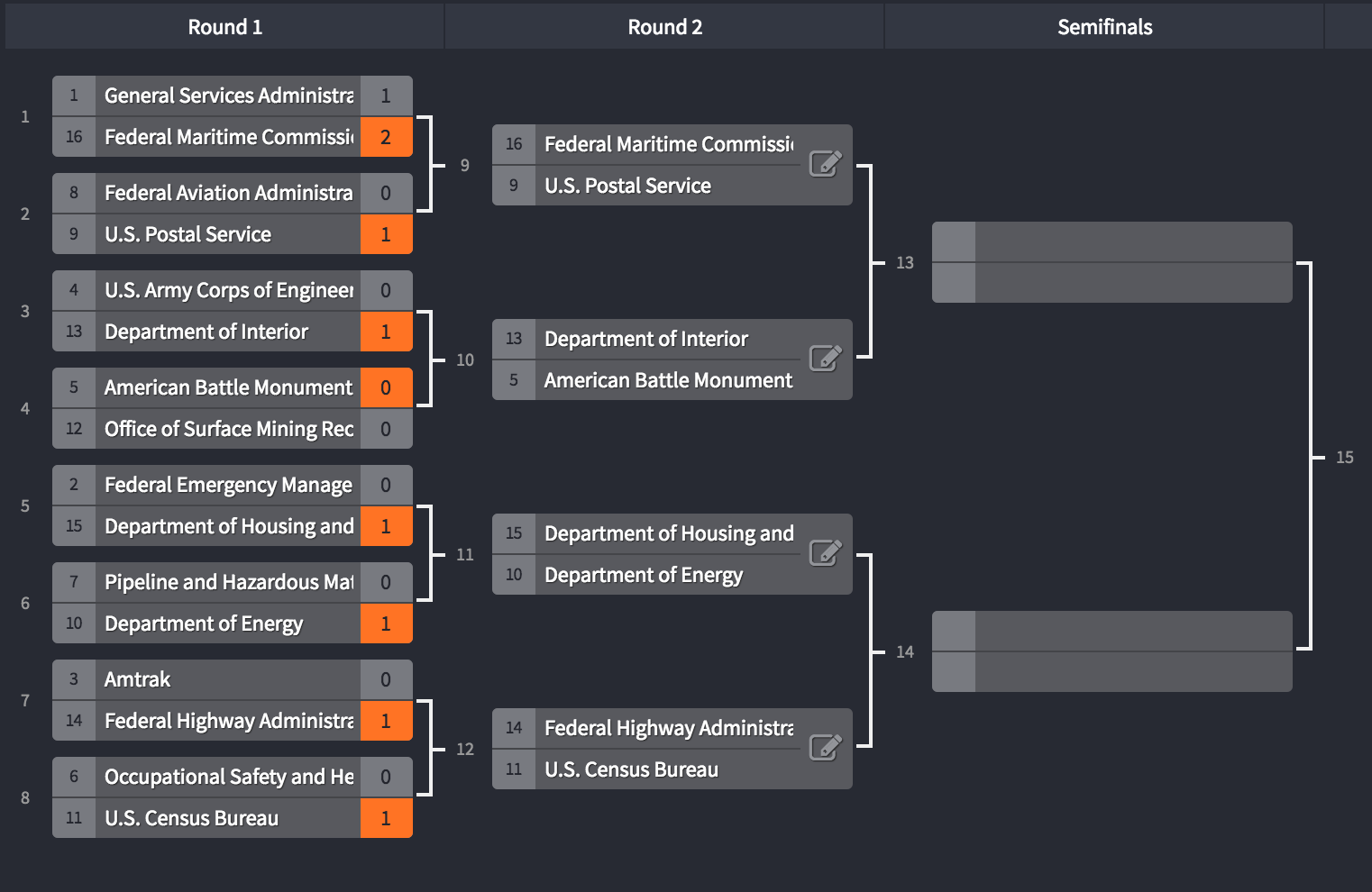 Protect Ya Neck
Of the 16 that began in this most unresponsive bracket, only the Armed Services Board of Contract Appeals has given us any sort of nod. All of the rest continue to await acknowledgement. Many of them definitely accept emailed requests, which means our initial requests have gone a whole week without being touched.
It's a sad showing from the bunch that are otherwise responsible for the vigilant protection of our streets and borders, and while we respect their work on the ground, it's hard to see what that has to do with their work in the FOIA office, where there's a lot of ground to be gained in the court of public opinion; a little transparency can go a long way to building trust.
Though a mass disqualification would maybe be more satisfying, a lot of match-ups we decided based on which agency was the "less bad" in each battle lineup.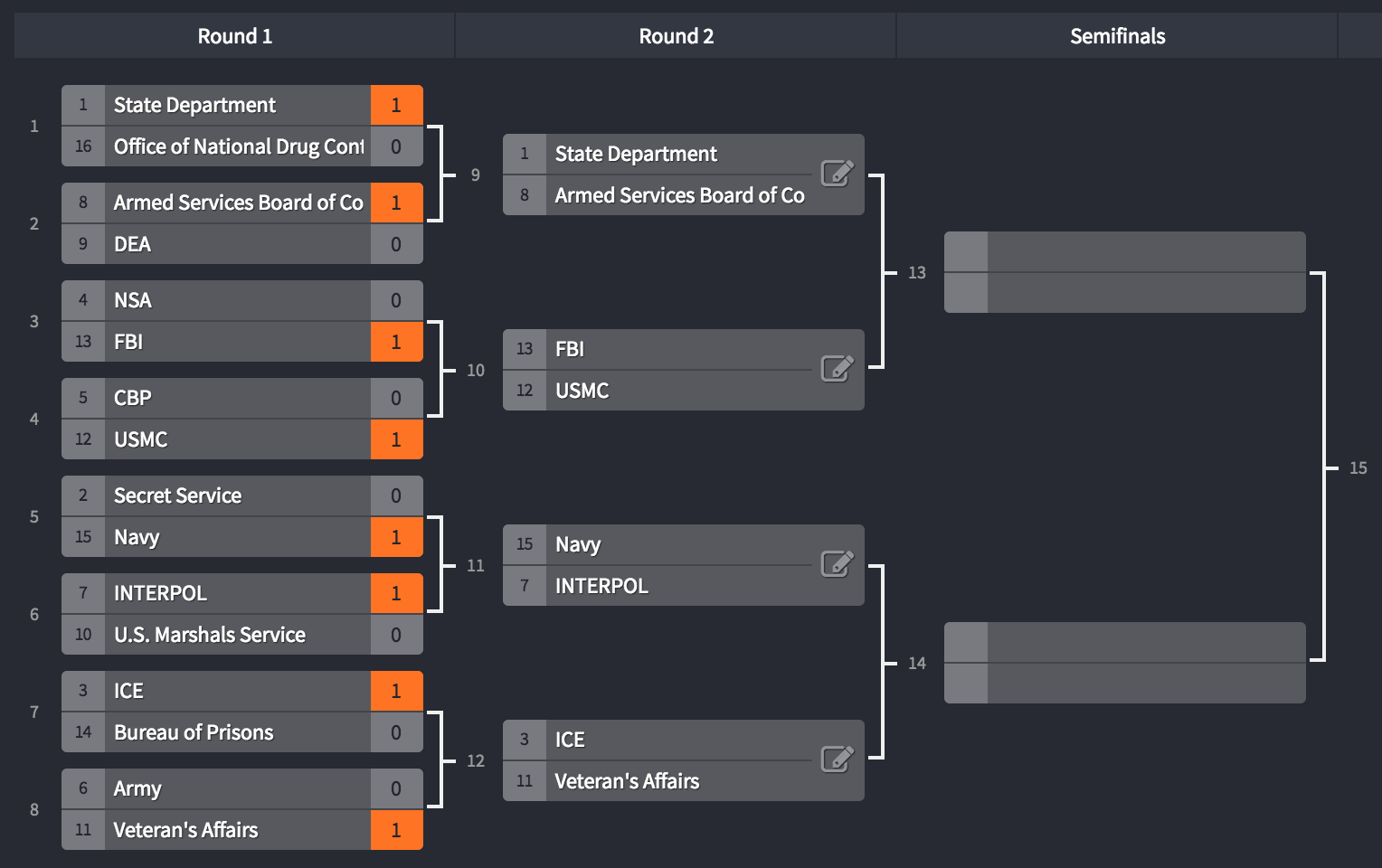 Here we have highlighted the disadvantages of the bracket an agency happens to be in. The Department of State, notoriously difficult to deal with, was moved ahead of the White House's Office of National Drug Control Policy and Immigration and Customs Enforcement ahead of the Bureau of Prisons. It's highly unlikely that either will be winning any positive FOIA awards this season. And in any other bracket, none of these agencies, based on their current track record, would probably qualify to advance.
Thrift Shop
They may be among the most likely targets of the Trump Administration's War on Whatever, but multiple close calls show that many agencies of this bracket are no slouches when it comes to getting back to their public.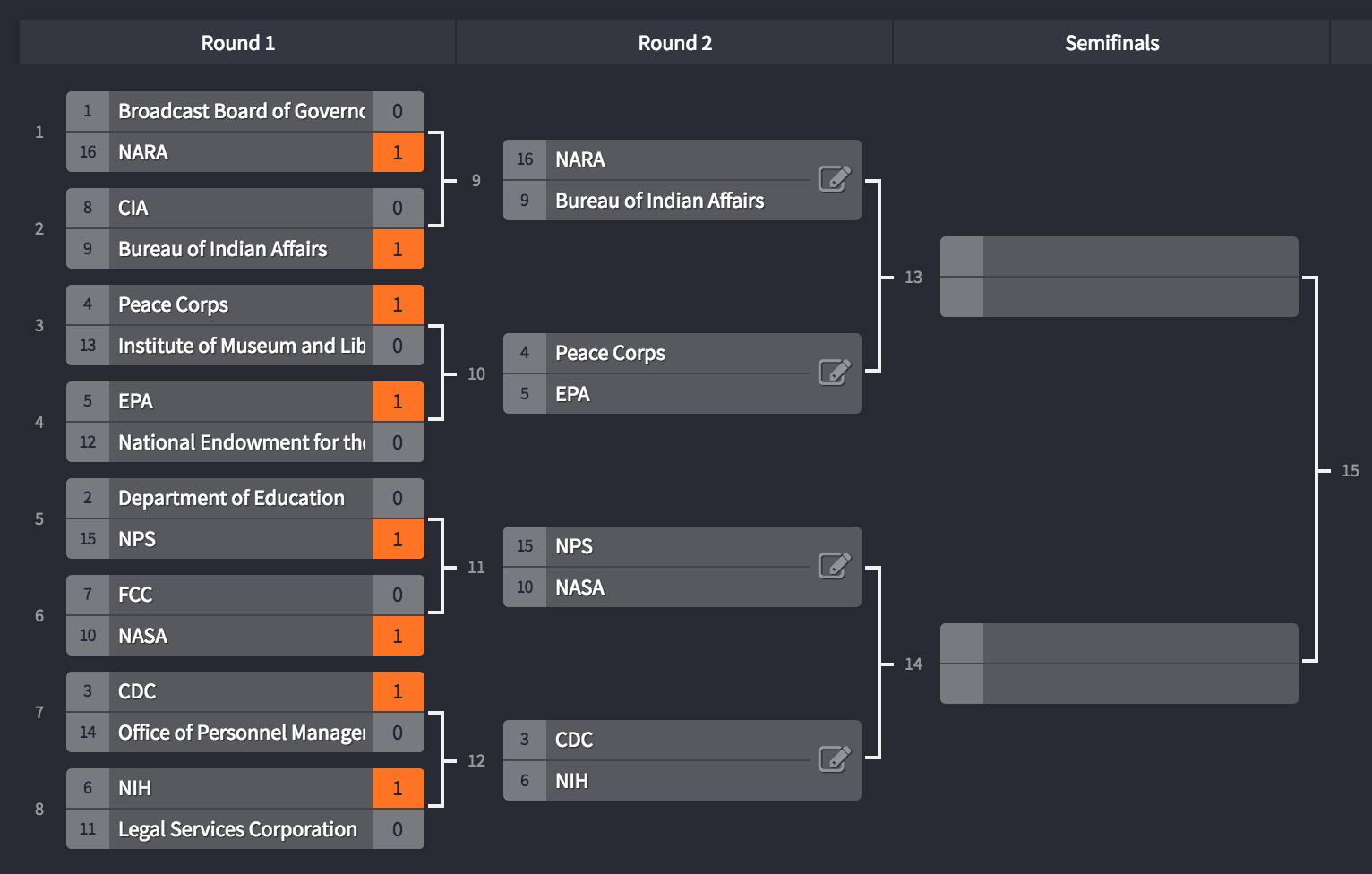 The National Park Service narrowly beat out the Department of Education, though they both were among our quickest respondents.
The Office of Personnel Management's automatic receipt acknowledgment, given its lack of a tracking number, was no match for the Centers for Disease Control and Prevention fast forwarding.
And in the closest call of the competition so far, National Institutes of Health beat out the Legal Services Corporation's next day acknowledgement by only a matter of hours. HOURS. There are some who would call this a robbery.
Check back in next week for more March Madness excitement and see who makes it past Round Two!
---
Image via Tiernan Douieb via Twitter