"We seem to have lost contact with the Trump-Pence transition team after the election," writes Walter M. Shaub, Director of the United States Office of Government Ethics, in a Nov. 18 email to Trump transition aide Sean Doocey. "I'm just dropping a quick note to remind you that OGE is here to help."
But the Trump Transition team didn't want help, and didn't seem to want to talk with OGE at all.
In a series of emails between Shaub, Doocey, White House council Don McGahn, and other members of Trump's transition team, released by OGE, it seems the office had significant trouble getting in contact with anyone in Trump's team in the weeks following the election - something Shaub called "unprecedented" in an email on Nov. 19

The Trump team's penchant for announcing cabinet picks without this prior vetting was also something Schaub called "unprecedented." Following tradition, OGE extended the offer to review the financial disclosure reports of prospective cabinet picks and White House appointees.

Not doing this, the government office warned, "poses the risk of embarrassment for the President-elect (and the individual candidate for nomination) in the event that the individual walks away from the nomination after learning what he or she will have to do with his or her financial interests."
This process, they explain, is "the result of hard lessons." It's true, for example, that former senator Tom Daschle withdrew his 2009 nomination to health and human services secretary after tax controversies arose.
But it appears this knowledge didn't bother the Trump team, who was also advised to work with OGE on potential White House appointees, where the risk is even greater. OGE just wants to review them to ensure they don't accidentally break the law.

This is all in accordance with the OGE transition guide, which states "OGE and agency ethics officials work with the nominee to perfect the report and prepare an ethics agreement. This work takes multiple rounds. OGE then preclears' the report in Integrity."
The full, typical nominee process was outlined in this graphic also released to us by OGE.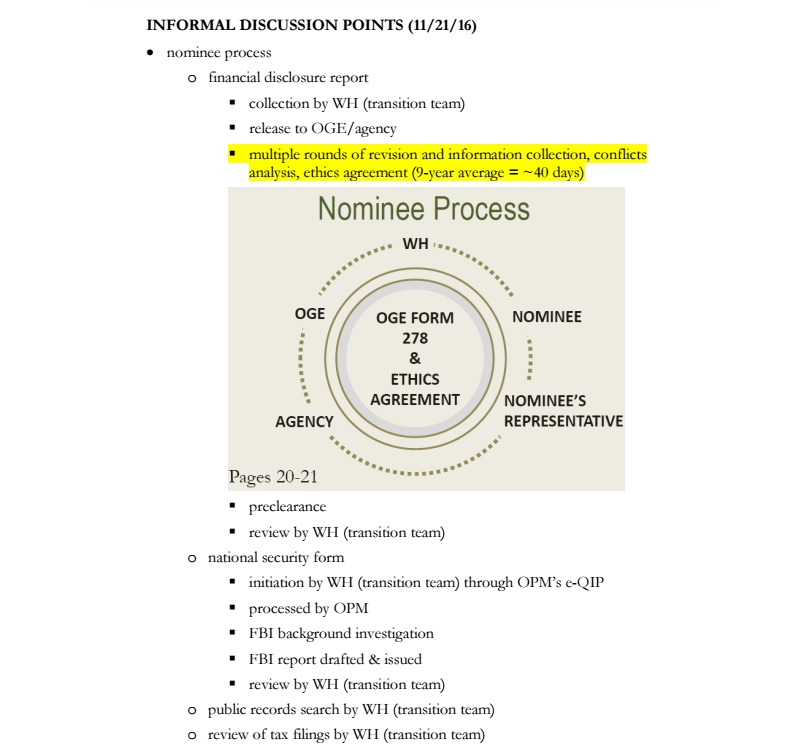 Schaub, the emails show, tried multiple times to call McGahn and arrange a meeting with the transition team - and figure out who, exactly, they should be speaking with.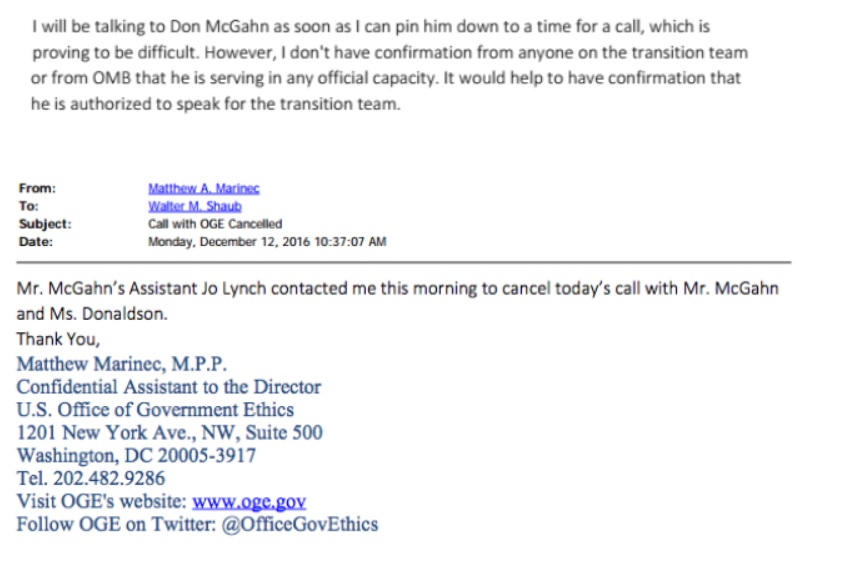 Also in the emails were OGE's official policies on presidents establishing blind trusts - information the president ensnared in personal business ties would have been remiss to ignore.

"As you know, our goal is to help you by preventing problems before they arise," Schaub wrote to Doocey on Nov. 18. "I will consider OGE successful if we get the administration off to a great start, wholly free of conflicts of interest."
Judging by the ethical issues raised throughout the nomination process - including Rep. Tom Price's personal investments in healthcare firms that benefited from legislation he was pushing and Rep. Mick Mulvaney's failure to pay employment taxes, it looks like Trump's team would have been better off sticking with tradition and working with OGE.
But, then again, this narrative checks out with the rest of Trump's first few months in office. Schaub is certainly not the first, and probably will not be the last, to call this new administration "unprecedented."
Read the full release embedded below, or on the request page.
---
Image by Gage Skidmore via Wikimedia Commons and is licensed under CC BY-ND 2.0