For the last three years, the FBI has been in the midst of a "partner-public pilot program that opens the FBI Education Center to the public to tell our story through an historical perspective, and outline our many capabilities and future direction." Part of this program involved a public feedback form, which was easy to request through FOIA, and whose results were scarce, but fascinating.
According to the FBI, they only received five submissions through the form. Of these, two were tests.


Only one piece of feedback seemed to actually reflect the intended purpose of the form - someone had apparently visited the FBI Experience/Education Center and enjoyed their time.

The only other response that appeared to result from a visit to the Center was more unusual. Whoever the person was, though, they quite enjoyed the opportunity to explain to the FBI "astral projection and CIA like time travel in the astral plane."

The final result had nothing to do with the FBI Experience, but was simply complaining about their experience with the FBI - in this case, watching Comey's performance in the "Clinton hearing."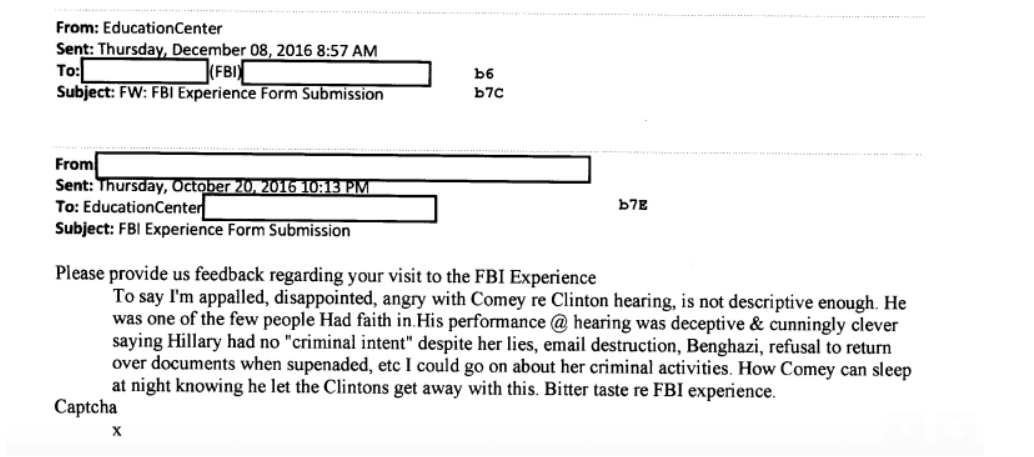 To find out how many people have actually visited the FBI Experience at the Education Center, a new FOIA has been filed. Until then, all we know is that the FBI Experience had two very satisfied visitors and for two very different reasons.
Read the full responses embedded below, or on the request page:
---
Like M Best's work? Support them on Patreon.
Image via Wikimedia Commons