Although the Oceti Sakowin camp has been demolished, and the Standing Rock protests have officially come to an end, we here at MuckRock will continue covering this event. The demonstrations in Morton County were at the intersection of indigenous rights, environmental crises, and police forces bent on subduing nonviolent protest, and there is plenty more to unpack.
The Emergency Management Assistance Compact (EMAC) that then North Dakota Governor Jack Dalrymple used to bring near 40 out of state law enforcement agencies to Morton County is a crucial piece in understanding how law enforcement dealt with the protests. It's initial purpose was to complement the Federal Disaster Response System, which is how the government mobilizes resources in catastrophes.

EMAC requests were historically needed to administer aid in the wake of massive hurricanes like Katrina or Sandy. Language in the law however stipulates that it can also be utilized in the event of other man made disasters such as terrorist attacks. Due to this clause, the EMAC system is being adopted to deal with especially dynamic protests. The NoDAPL protests in particular drew the most far-reaching law enforcement attention.
Using this 1996 disaster aid law to combat demonstrations comes at a hefty price tag, with North Dakota taxpayers on the hook for millions of dollars. Wisconsin has been an epicenter of support for North Dakota, and today we are publishing more documents we have unearthed. This time, the records come from the office of Wisconsin Governor, Scott Walker.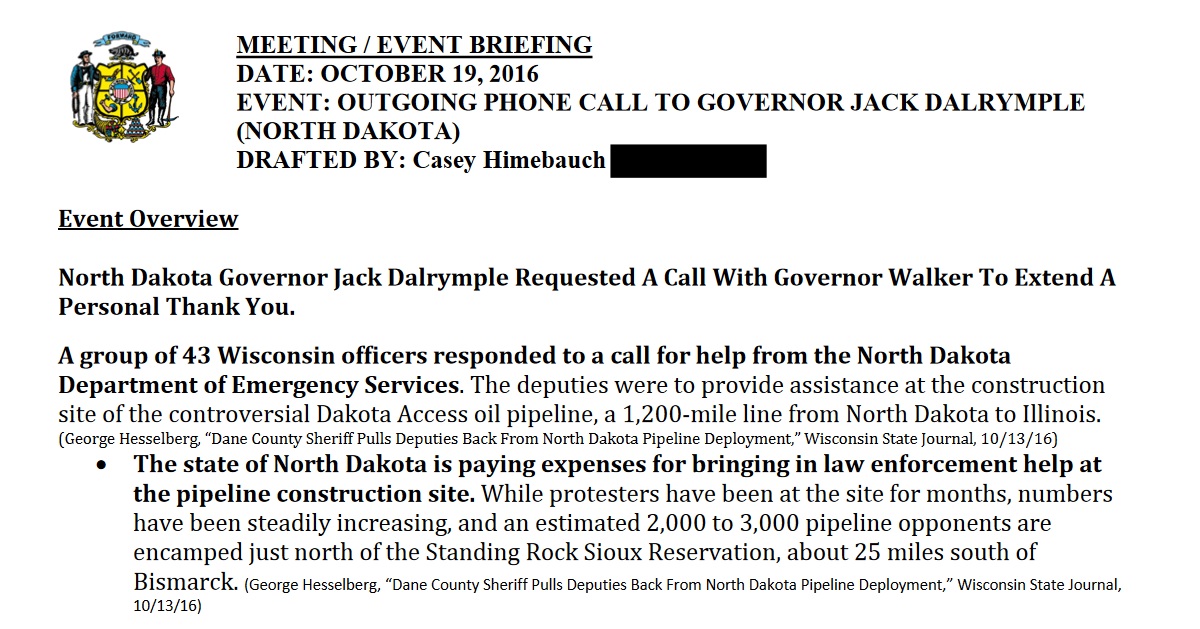 The records we received include operational briefings from the Morton County Tactical Command Post, Wisconsin Department of Transportation briefings, emails to Governor Walker's office from various ND government staffers, and various updates on the six Wisconsin law enforcement agencies participating in the EMAC: St. Croix County Sheriff's Office, Dane County Sheriff's Office, Rock County Sheriff's Office, Marathon County Sheriff's Office, Vilas County Sheriff's Office, and the Wisconsin State Patrol. We have asked for records from all six of these agencies. So far, only Dane County SO has been responsive.
These documents from Governor Walker offer another important window into the EMAC. For instance, on October 3rd 2016 Hurricane Matthew smashed into the southeastern United States, triggering Florida and North Carolina into declaring states of emergency. This led to a separate EMAC request, which again, is more in line with what the law was originally purposed for.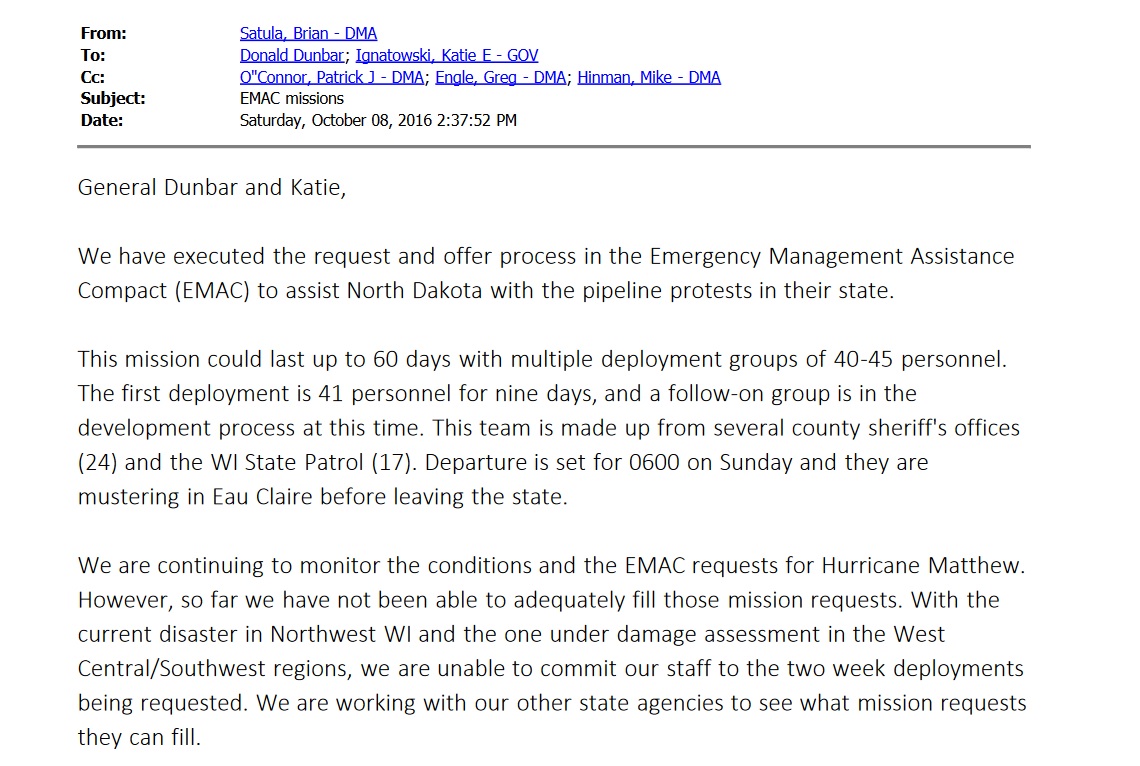 It seems Gov. Walker chose to send his personnel to North Dakota.
In an email from Brian Satula, administrator for Wisconsin Emergency Management, it's noted that 41 Wisconsin law enforcement officers were being sent to the banks of the Cannonball River, North Dakota, for at least 21 days. The very next paragraph mentions that they haven't been able to fill positions for the EMAC which resulted from Hurricane Matthew. He also seems to indicate that the flooding in northwest Wisconsin, which resulted in $30 million in flood damages, was also lacking appropriate personnel. This email is dated October 8th, the official EMAC request from North Dakota was October 7th, and Hurricane Matthew hit on the 3rd of October.
From this timeline it appears that Governor Walker felt that subduing the protests in North Dakota against an oil pipeline threatening indigenous water supplies was more important than hurricane victims.

Hurricane Matthew killed 26 people in North Carolina, and caused $1.6 billion in damages. In Florida, five died, and $2.75 billion accumulated in disaster relief charges.
There were no reported deaths caused by protesters, nor were there any police killed or seriously injured at Standing Rock. There was very little, if any, protester aggression. The only real violence observed at the NoDAPL demonstrations came from law enforcement water cannons, tear gas canisters, and truncheons.
At least one Wisconsin constituent felt resources could better be used elsewhere - near the end of the records is a transcript of a call to the Wisconsin State Patrol, complaining about the Governor's handling of the NoDAPL EMAC. They were upset at the money being spent by Wisconsin to suppress a protest that had nothing to do with any Wisconsin citizens, while the WSP argued that the money would be reimbursed.

The constituent's skepticism so far seems to be well-founded - the federal government has declined to cover any of the bills that have accumulated, and North Dakota has hemorrhaged quite a lot of funding to cover this expansive operation. It's unclear if and how the new presidential administration will change the US government's stance on this.
Read the full response records embedded below, or on the request page.
---
Image by RedHawk via Standing Rock Rising