If you live in Boston, you might have had a knock on your door, and then opened it to see one or two individuals, each with an official-looking ID on a lanyard, who will immediately launch into their script - they're "with" your energy company, and would like to offer you an opportunity to sign up for a fixed rate. A smart move given the impending price increases, they say. They may ask to see your utility bills. And if you ask them to leave, you may find that they won't leave without giving you an earful with a side of guilt-trip.
And while they aren't exactly door-to-door scammers, that rate they sign you up for may end up costing you far more than you currently pay, and some have reported that a solicitor signed them up for their service after peeking at their bill- entirely without the resident's consent. One company was fined $4 million in 2015 for their deceptive tactics, including luring customers with cheap prices only to later drastically increase costs.
There are many different companies allegedly using these tactics: SFE Energy, Spark Energy, Just Energy, Viridian Energy, Liberty Power, Direct Energy, Switch Energy, and Mega Energy are all mentioned frequently by frustrated commenters on the r/Boston subreddit.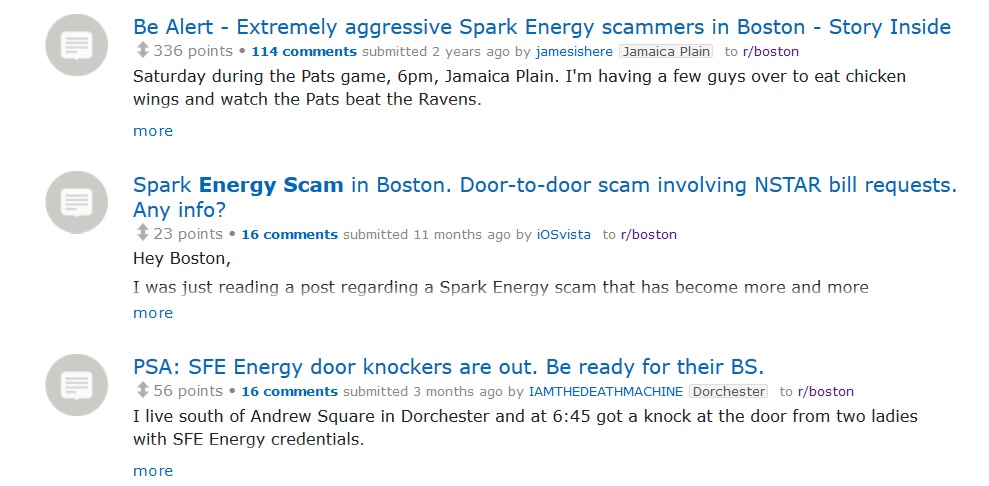 It's unclear if these are some of the same people or several different companies with the same shady and aggressive business practices.
A request submitted to the Department of Public Utilities for complaints regarding all of the above-mentioned companies yielded a whopping 1,500 pages - a cost-prohibitive undertaking. However, a log of complaints received by the DPU between March 2015 and May 2017, and provided free of charge, shows that the number of complaints filed against these companies has drastically increased over the past eight years.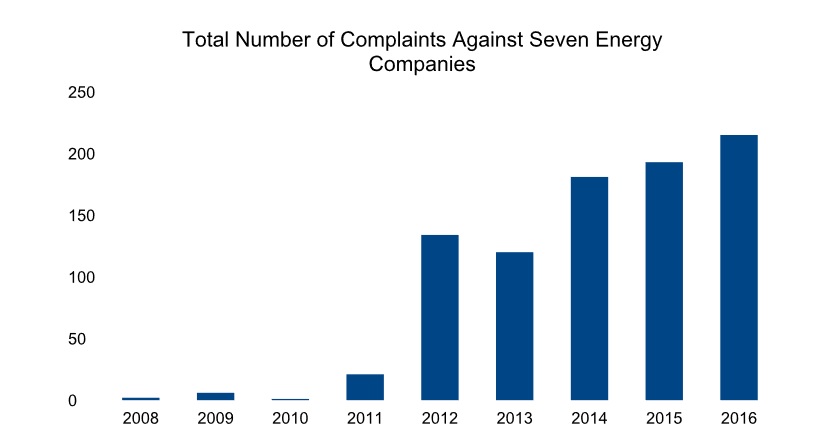 And apparently, they'll come to your door blizzard, rain or shine.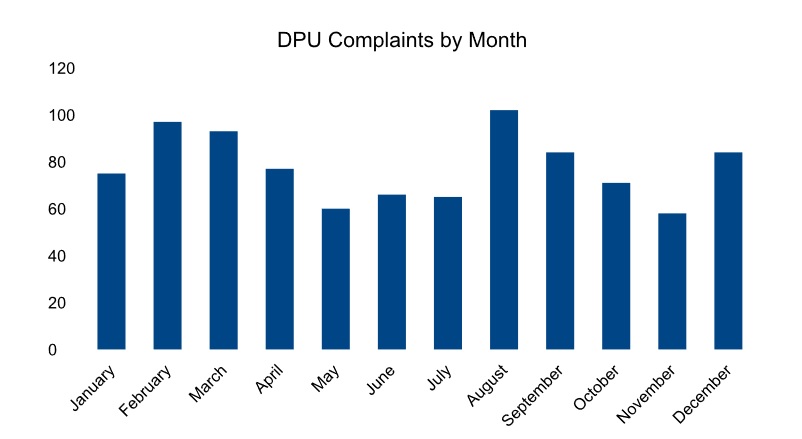 According to the logs, Just Energy was the subject of 269 complaints - almost 30% of the total - since 2009.
Though these formidable solicitors are primarily associated with neighborhoods of Boston, including Cambridge, Somerville and Brighton, the largest number of complaints by far were filed by residents in Worcester. Other favorites include New Bedford, Revere and Lynn. Dorchester, the neighborhood from which the second highest number of complaints originated, is home to the largest senior population in Boston, according to a report produced in part by the City of Boston's Commission on Affairs of the Elderly.
Of course, not everyone even knows there is a such thing as the Department of Public Utilities, never mind going through the trouble of filing a complaint.
Several complaints sent to the DPU were referred to the Attorney General's Office. A similar request for complaints sent to the AGO yielded 331 complaints. Notably, complaints filed against Liberty Power and Viridian Energy "are not subject to disclosure in their entirety" as they "are central to one or more AGO investigations that are open, active, and ongoing."

The AGO assessed a $550.00 payment prior to providing the complaints, but provided a breakdown of the number of complaints for each company named in the request, providing further evidence that Just Energy is the worst of 'em all.

Read the full list of complaints embedded below or on the request page.
---
Image by Kristoferb via Wikimedia Commons and is licensed under CC BY-SA 3.0