In Massachusetts, if you're unhappy with a response to a public records request, you can appeal it by submitting a petition to the supervisor of public records. And now, under the new public records law that took effect January 1st, municipalities and state agencies can also petition the supervisor for several reasons.
The new law gives municipalities up to 25 business days to produce records while state agencies have up to 15 business days. But municipalities and state agencies can also petition the supervisor of records for one extension per request. Municipal agencies can get up to 30 extra business days, and state agencies can get up to 20. Municipalities and agencies can also seek to be relieved of their duty to provide records if a "request is part of a series of contemporaneous requests that are frivolous or designed to intimidate or harass, and the requests are not intended for the broad dissemination of information to the public about actual or alleged government activity."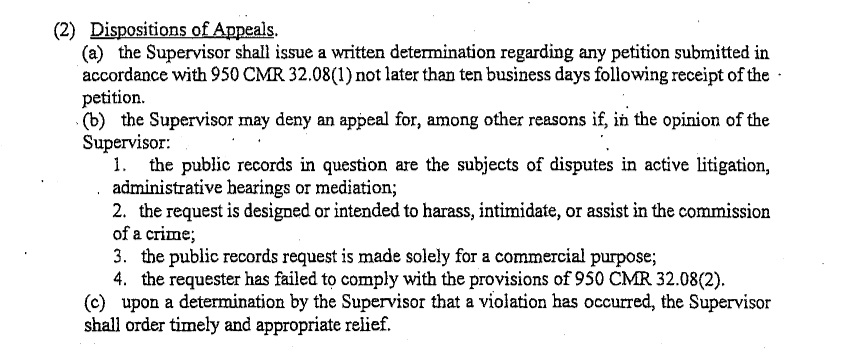 The new law also puts limits on how much agencies can charge for records. Now, agencies will only be able to charge $25 an hour for personnel time, cannot charge for the first few hours of work unless they're part of a municipality with a population of 20,000 or less, and cannot charge for redactions unless they're mandated by law (as opposed to allowable by law). But municipalities and state agencies can petition the supervisor to lift the limits on segregation time, and municipalities can petition the supervisor office to lift the hourly rate cap.
MuckRock was able to obtain all the petitions that have been submitted by municipalities and state agencies thus far by making a public records request. So far, 12 municipalities and state agencies have submitted petitions.
Three municipalities requested permission to charge for redacting records.
One of those requests was denied.
Another was withdrawn because the requester narrowed the scope of their request. And the supervisor of records did not rule on the third because the requester indicated a willingness to narrow his request.
Eight municipalities requested extensions for complying with requests.
The supervisor granted one 20-business-day extension. Another request was withdrawn after the town was able to comply with the request in 10 days. The supervisor declined to rule on the remainder because the municipalities were able to comply with the requests in time, the requester consented to the extension, or – in one case – because the request dated back to 2016, before the new public records law took effect.
Another municipality asked to be relieved of its obligation to comply with a request because the requester did not respond to requests for clarification. The supervisor ruled that it was unnecessary to do so because the town's request for clarification already complied with the law.
Read the full list of petitions on the request page.
---
Image by Emmanuel Huybrechts via Wikimedia Commons and is licensed under CC BY 2.0