This Saturday, MuckRock officially turns seven. On February 11, 2010, we registered the domain and began working on the basics of the public records tool that you're now using. Here, in pictures, graphs and a few key numbers, a look at how far the site has come.
A user-friendly front-end for a challenging process
The original idea for MuckRock came when we read years of investigative reporting and found a common thread: time and again, reporting that saved lives, changed policies, and kept government accountable was based on public records.
But with reporters increasingly buried under competing deadlines, newsroom budgets slashed, and agencies becoming increasingly secretive, the process was becoming harder and harder to make use of.
Our first design was a far cry from what we have today, retrofitted onto a $20 WordPress template we bought (and got years of use from!)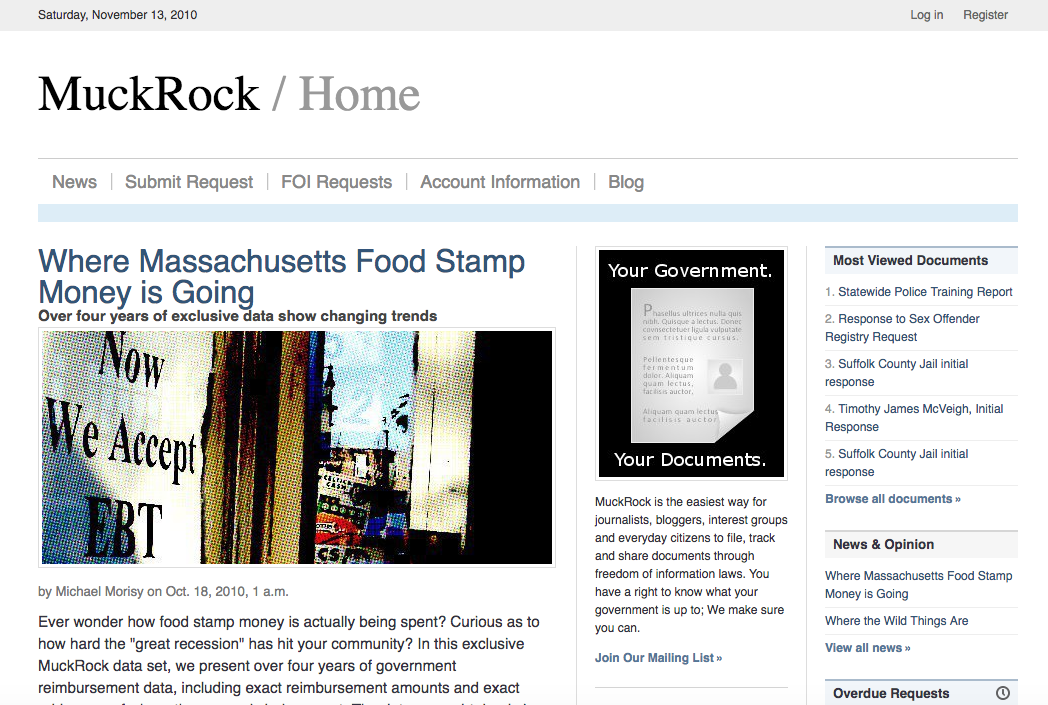 And while it wasn't as pretty nor as functional as what we have today, hundreds of users found it an effective tool for opening up government, particularly with the ability to share their requests - including successes, failures, and everything in between - with others, helping everyone learn more about the process while applying pressure on agencies to respond.
In late 2014, we finally launched what would become the basis for the current design , thanks to the incredibly talented Allan Lasser.
And since we're now open source, we can show exactly what all of those tweaks over the years entailed :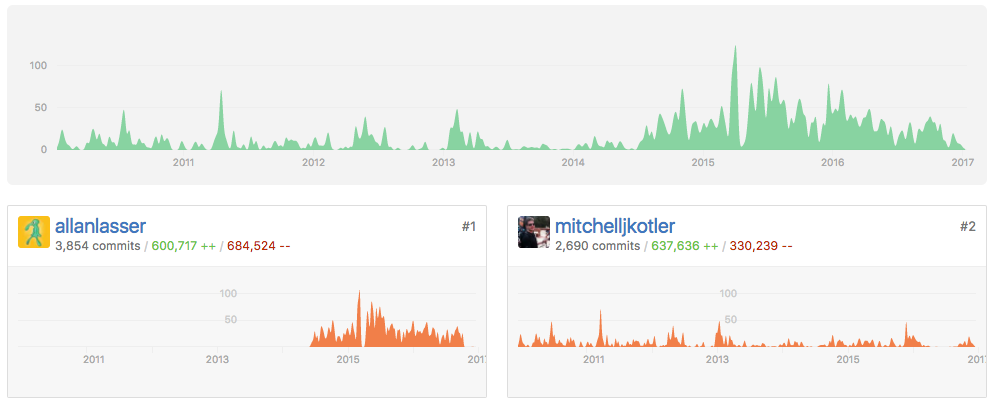 (Not pictured: my 38 commits.)
Seven years of fax mastery
Over the past week, there's been a lot of attention paid to the fact that the Federal Bureau of Investigation is turning off its email address and sending requesters to either its online FOIA portal ( which has problems) or the trustworthy fax machine.
A lot of people asked if this meant that MuckRock could no longer be used for FBI requests, but we've actually been quietly using fax to submit requests to technologically-dated agencies almost as long as we've been around.
These days, in fact, we send about 1,000 fax messages a month to agencies all across the country, including the Central Intelligence Agency. And while we're disappointed that the FBI is closing off one path for requesters to use ( accepting emailed requests was almost made mandatory in the FOIA reform that passed last year, only to be wiped out during reconciliation), we'll continue getting requests to the agency on behalf of our users by any means necessary.
And this isn't the first fax fight we've had: In 2013, the Office of the Secretary of Defense pushed requesters to submit requests via fax, only for that sole DoD fax machine to breakdown, stranding requesters because the department said that it couldn't budget for a new machine until the next year. Fortunately, after a vocal public outcry and a planned Kickstarter to buy the DoD a new fax machine, the office some how found the funds itself .
The CIA ran into similar problems, when during the last government shutdown, it simply turned off its machine and bounced back any incoming FOIA requests.
No matter: If an agency only accepts mailed requests, we still can do that, too (and in desperate situations, we've even been known to hand deliver requests).
The good news is that most agencies are catching up to modern life: 81 percent of our communications go out via email; 13 of requests go out via fax, and just 5 percent go out via mail.
A lot of requests leads to a lot of paper
Over the years, we've helped thousands of people file tens of thousands of requests - fast approaching 30,000 requests in total, in fact.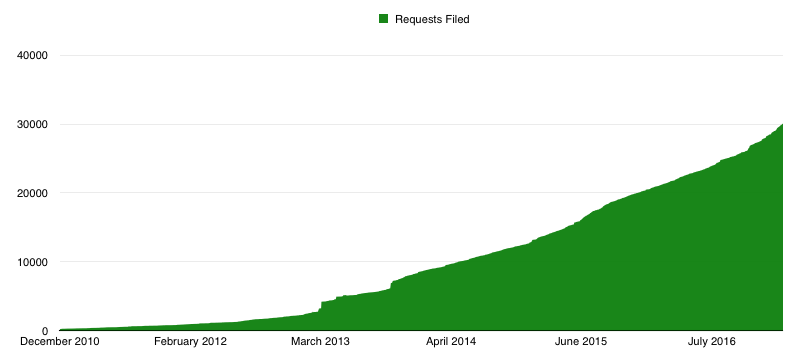 You can see some early spikes when we worked on larger FOIA projects, such as in March 2013, but as overall volume has picked up those kind of spikes are less and less noticeable.
And for those that insist FOIA doesn't work, a look at the pages released thanks to MuckRock requests: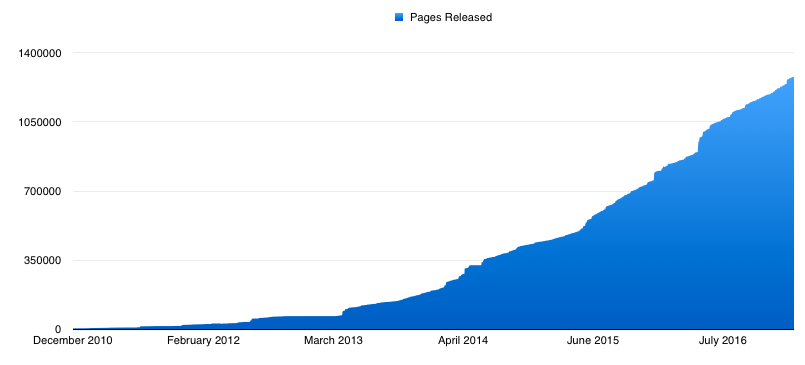 434,173 of those pages were released in the last year alone, and the graph above doesn't include the 13 million pages released by the Central Intelligence Agency after we sued them, nor any of the documents our users have been able to get that aren't typical documents, such as source code and videos.
A thriving community of FOIA friends
One of the core beliefs we had when we started MuckRock was that the whole is greater than the sum of its parts. By working together, by sharing what they learned, we believed that requesters could be a more powerful force for government transparency and accountability.
And we're excited that a lot of other people agree: MuckRock now has 4,492 registered users, and we've worked with thousands of other requesters who have used our public requests as templates, participated in our free filing projects, come to our events, and taken advantage of our state guides .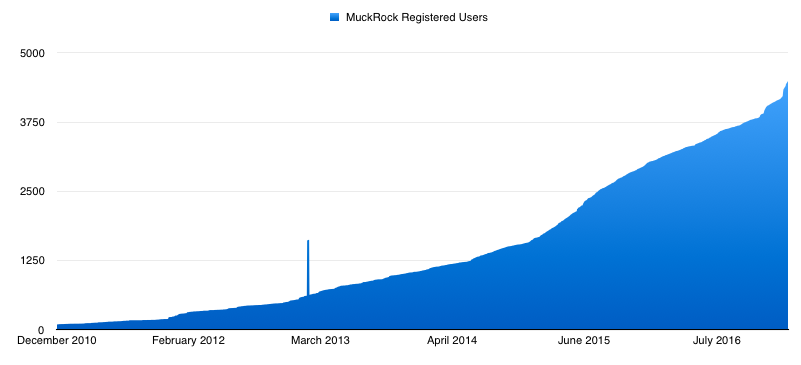 And that is just a small fraction of the 3,367,078 (and counting) unique visitors who have come to the site and learned more about the public records process. We believe that even if you never file a request, learning about your rights and fighting to keep them is a critical part of being an engaged citizen.

I'm particularly grateful for the amazing, hard-working staff that has kept MuckRock growing and thriving over the years. The amount of work they do behind the scenes - helping craft appeals, licking stamps, and categorizing hundreds of thousands of incoming agency responses - is incredible, and a critical piece of making it easier for thousands to have a more enjoyable, impactful public records experience.
Strong support for many years ahead
MuckRock would not exist except for its amazing users, who endlessly come up with fascinating new use cases for the site, digging into previously secret corners of government at all levels and helping right wrongs, or just helping the public better understand what government does in its name.
This past year — our first as a non-profit — was our strongest year ever. We roughly doubled in size and output:
We went from publishing about five stories a week a year ago to 12.5 a week last month.
Our overall annual budget doubled from around $75,000 to around $150,000.
We helped publish over 434,173 pages of document this year.
MuckRock users filed 8,768 over the past year, up from 7,264 in the same period in 2015 and up from 5,133 in 2014.
None of that would have been possible without our paying users, including community users, professional users, and our relatively new organizational accounts, all of whom put public records to work in important and effective ways.
We're also grateful to all the donors and foundation support we've had over the years. Now that we've officially filed our first 990, we've posted that document along with information on our major funders on a new page that details our finances. If you have questions or suggestions, please let me know .
Thank you for all your support in helping MuckRock make it to lucky number 7. I'm looking forward to many years of transparency ahead.
---
Image via Wikimedia Commons