Buried in the STARGATE section of the CREST release is a letter from Congressman Charlie Rose, the Chairman of the Subcommittee on Evaluation, regarding the Intelligence Community's psychic program. Although short, the letter highlights a concern that was to be repeated by many outside of government for decades - that the program was part of CIA "mind control" activities, where in some cases "the rights of individuals were violated."
According to the letter to the other Committee members, this was the issue that first brought their attention to the matter. The fear wasn't entirely unjustified, as one program ended at the same time the other began, and the two programs shared some rather infamous personnel.

The letter goes on to say that the Committee hadn't made "any determination to endorse the experimentation as valid or invalid, [but] it does find that continued activity in this field may offer promise in applications to intelligence problems." Therefore, Congressman Rose was scheduling a briefing from Doctors Puthoff and Targ, who were involved in the project.

Warning about people's sensitivity to the strangeness of parapsychology, and that the "uniformed" (likely a typo for "uninformed") "would label such research more mind control experimentation," Congressman Rose argued that this should all be kept confidential. According to a memo summarizing the later briefing, Congressman Rose again argued that the information should all stay classified.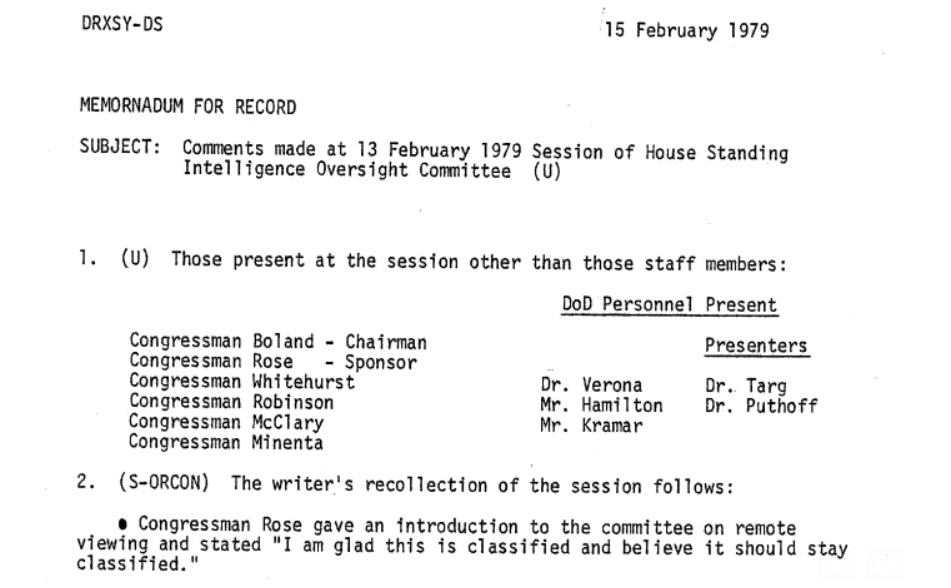 The subject of mind control did come up once during the briefing, in an answer to Congressman Rose. According to the briefing, most of the Soviet Union's research (allegedly much better funded than the CIA/DIA/NSA/etc. research) was into telepathy and mind control - a recurring theme in briefings and documents on the psychic programs and the "psychic gap."

According to a final note from Congressman Rose, the project was fully supported by the House Standing Intelligence Oversight Committee and the House Armed Service Appropriations Committee.
Thanks in part to Congress's secretive support, these programs were officially kept running at least until the early 1990s.
The full letter from Charlie Rose is embedded below:
---
Like Emma Best's work? Support them on Patreon.
Image via National Security Agency