This past May, New York Governor Andrew Cuomo ordered all higher-education institutions across the state – both private and public – to review their compliance under his "Enough Is Enough" law. Requiring the adoption of standardized procedures to address sexual violence and increased access to law enforcement, the law was signed during a time of heightened awareness of campus sexual assault. Recent years have seen multiple high-profile sexual assault cases, including that of Brock Turner, the Stanford athlete who only received six months of jail time after raping an unconscious woman.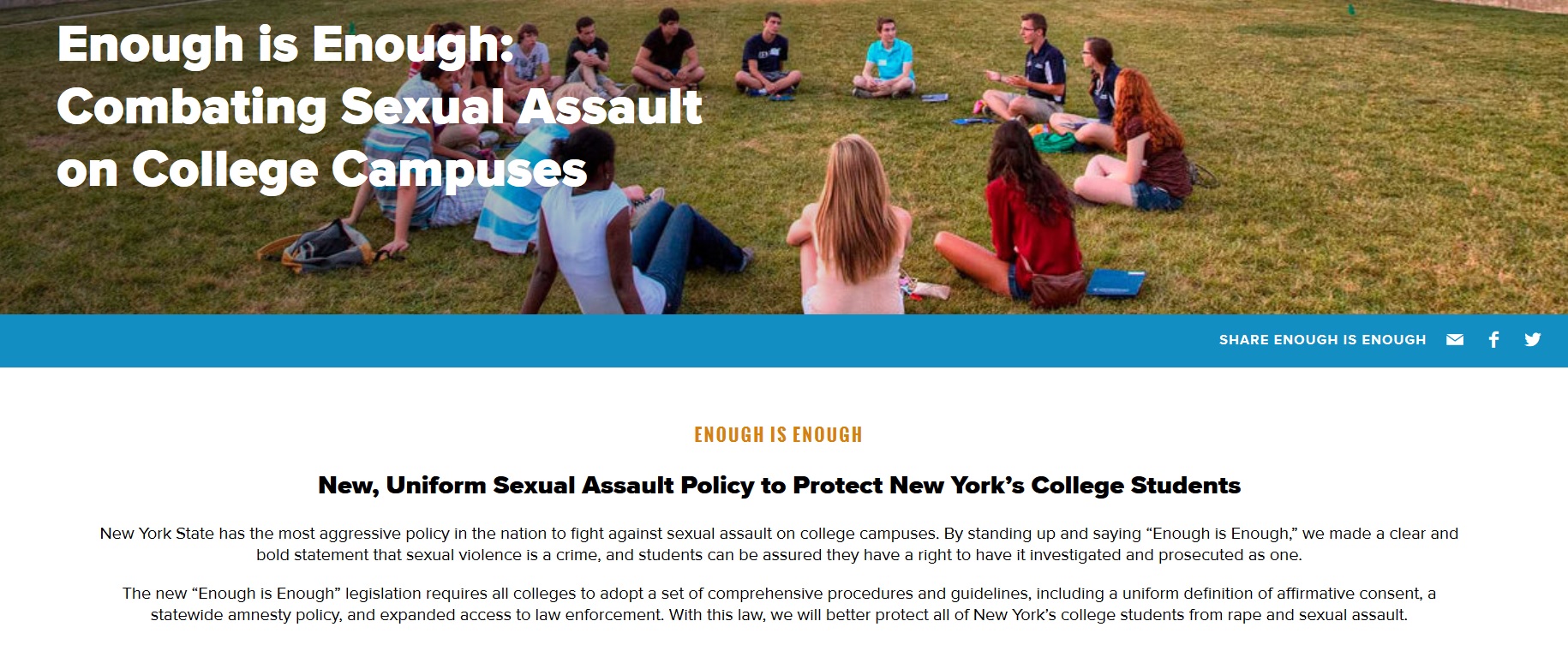 Cuomo's law, and his order to review compliance under it, would appear to make New York state a frontrunner in the fight to end this form of campus violence. Beginning in May, a team of representatives from the New York State Police, Division of Criminal Justice Services, Department of Health, Office of Victims Services, Division of Human Rights, and the State Education Department began evaluating how well each institution is adopting the newly required procedures. Under Enough is Enough, schools must implement student and staff training, notify the victim of their rights, and follow specific investigation requirements.
The review was set to be completed by Fall of 2017, with a preliminary report ordered to be ready by September 1st. In light of this, we filed a request with the State University of New York (SUNY), a system of public colleges comprised of 64 campuses. Our request asked for the results of Cuomo's audit at all SUNY campuses.
We received an answer to our request on August 21st - 11 days before the preliminary report is due - and it turns out, SUNY hadn't conducted the mandatory audit.

The law is only strong so long as individual institutions work to implement them. SUNY has over 430,000 enrolled students. By not complying with Governor Cuomo's "Enough is Enough" review, they are choosing to forgo a procedure that would keep those students safe. When one in four women experience sexual violence on college campuses across the country, it is imperative that these institutions take up the fight to properly prosecute these crimes.
Furthermore, SUNY is an important example of the value of using public records when seeking information on sexual assault laws and the rape kit backlog - laws may pass, but as is the case with SUNY, that doesn't necessarily mean they're being implemented.
Want to get involved? Add your town - or public university - to our project via the form below, and we'll submit a request to your local law enforcement.
---
Image by crz4mets2 via Wikimedia Commons and licensed under Creative Commons BY-SA 3.0.