Since its set up in the late nineteenth century, the United States Naval Station at Guantanamo Bay has been a source of tension for Cubans and Americans alike. Intentions to withdraw from the base, like those professed by former President Obama upon his ascension to the country's highest office, have failed to translate into action. And, as we settle into a new administration with no such lofty ambitions, the U.S. installation continues to claim millions of dollars in private contracts, including for G4S, a UK-based private security company that had its beginnings as a private prison firm with which we're more familiar: the precursor to today's GEO Group, Wackenhut, which previously ran operations at the base's Migrant Operations Center.
Those held by the MOC at Guantanamo Bay belong to a different set than the detainees we've associated with the station in the years since September 11, 2001. As opposed to the predominantly-Middle Eastern stack of detainees held at the Guantanamo prison, those at the MOC are considered a more voluntary, rather than criminal group.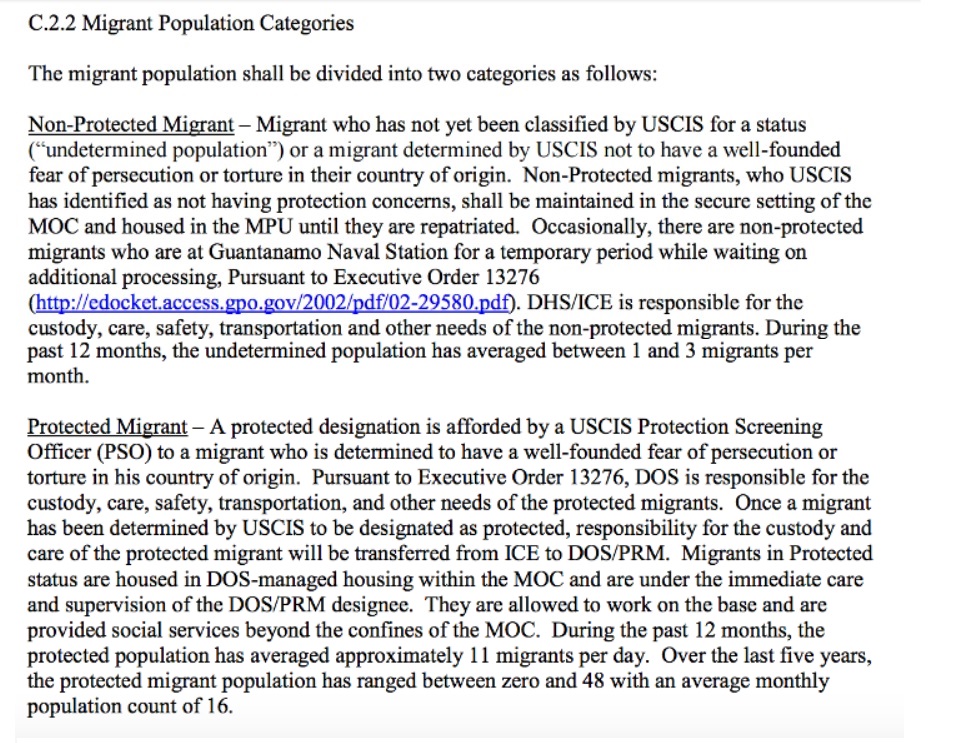 The MOC has held an average of 16 individuals monthly, according to the most recent Request for Proposals issued by Immigration and Customs Enforcement. This is far fewer than the thousands, primarily Haitian, that found themselves trapped at the base in the nineties, though the most recent RFP requires that the winning contractor be prepared to accommodate as many as 400 beds per day.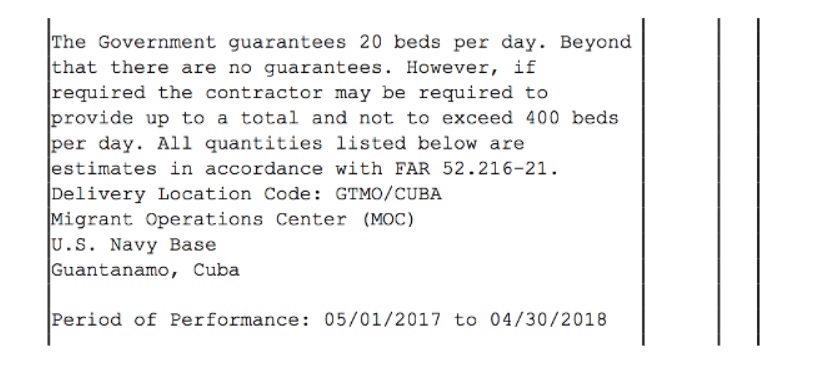 In 2003, the responsibility for the MOC went to Wackenhut, and then GEO Group, upon the company's restructuring. In 2012, a new award for services was given to MVM, Inc. It's not clear whether a new award has yet been issued for the contract slated to begin May 1 under Solicitation Number HSCEDM-16-R-00005. In the last five years, the government has awarded over $830,000,000 in contracts to private entities for services related to operations at the controversial naval base, according to the Federal Procurement Data System.
MuckRock will be filing requests around the government's ongoing use of migrant detention at Guantanamo Bay. Have thoughts? Let us know at info@muckrock.com
---
Image via Wikimedia Commons