In a democracy, the power of the people comes from the ability to hold their government accountable. We're launching a project to provide a comprehensive list of FOIA resources that will help you to prepare, participate, and investigate protests. Today, we'll be examining three pivotal protests of the past decade in America – Occupy Wall Street, Ferguson and NoDAPL.
Occupy Wall Street
Social media was critical to the 2011 Arab Spring and laid the framework for new millennium movements like Occupy Wall Street. What began as an occupation of one citie's financial district, spread out nationally from Boston to Los Angeles.
Financial Records
Particularly in a case like Occupy, corporations can hold a stake in monitoring and suppressing protests. An email correspondence between a Bank of America intelligence analyst and the Washington D.C. police revealed the companies wavering confidence surrounding what they hoped would be a sputtering movement.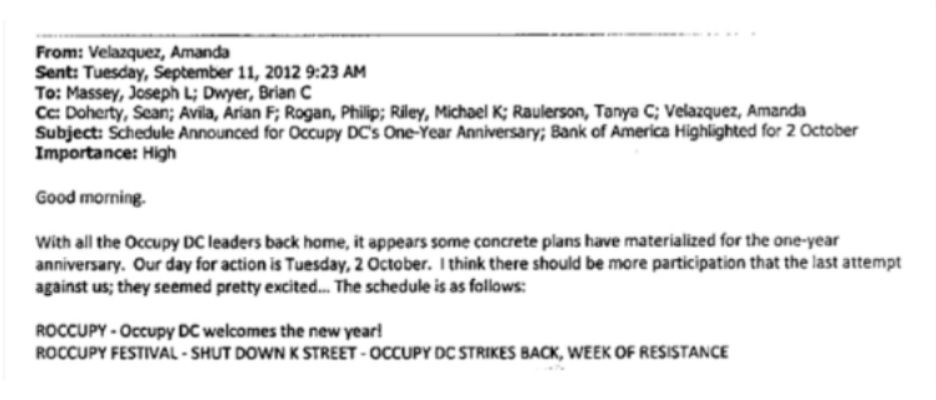 In LA, Occupy protests cost the city 4.3 million due to the dozens of agencies monitoring the protests around the clock. Emails show some city council members wanted to force the occupiers themselves to foot the bill.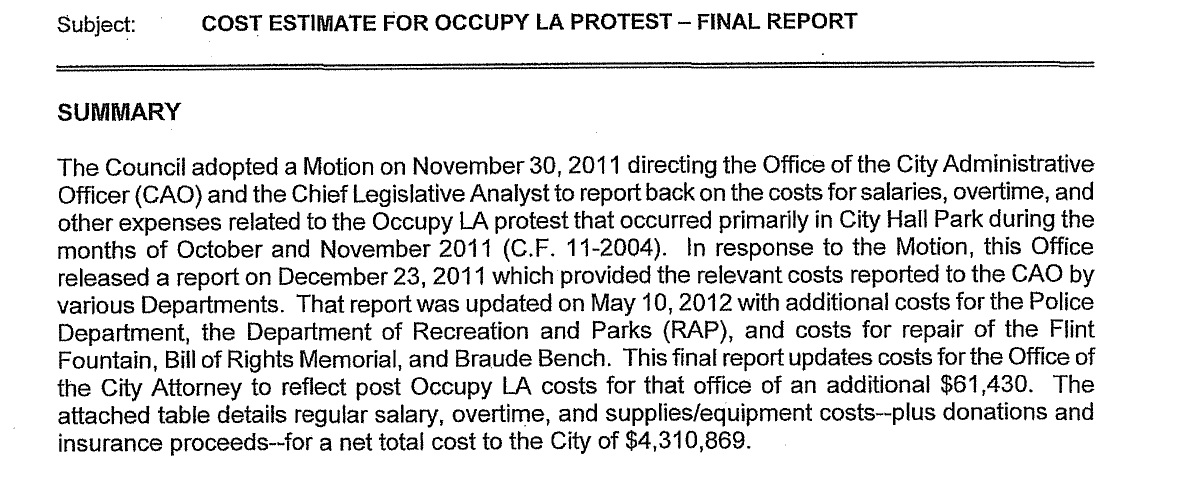 Ferguson
Following the shooting of Mike Brown, Ferguson, Missouri fell into a swell of unrest and activism surrounding race and police brutality. In line with Occupy, Ferguson's reporting relied largely on its citizens due to incessant efforts by Ferguson Police to keep the media out and the country in the dark.
Social Media
Social Media accounts are a way for police to track a citizen's political ideology even after a rally. Following the Ferguson protests, the ACLU uncovered documents that tied social media giants Facebook, Twitter, and Instagram with the social media tracking software company Geofeedia. The released files detail the companies role in monitoring Ferguson activists, which they tout with "great success".

Facebook, Instagram, and Twitter have all suspended Geofeedia's access since the report was published. Police departments across the country still continue to use Geofeedia and similar software technology, exhibiting a very concerning breach of individual's right to privacy and a powerful tool to quell public dissidence when wielded indiscriminately.
Uncovered by the ACLU in 2015, public records revealed that the Fresno Police Department was using the social media surveillance tool Media Sonar to track the hashtags "#BlackLivesMatter, "#DontShoot", "#ImUnarmed", "#PoliceBrutality", and "#ItsTimeforChange".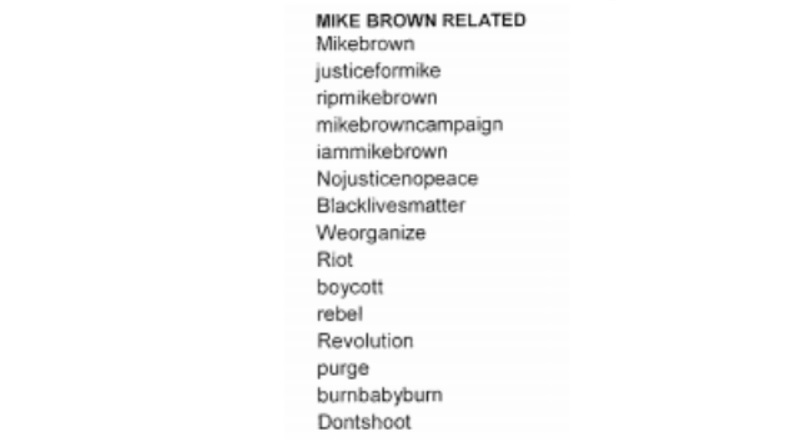 Since the discovery, the creation of a multi-city legislative initiative known as Community Control Over Police Surveillance (CCOPS) has introduced more local laws to bring transparency and community control to the acquisition and use of local police surveillance technologies.
Police Militarization
Even nonviolent political rallies can still involve a police presence that is more paramilitary than peacekeeping.
1033 Program
Begun in 1989, this still active Pentagon initiative transfers excess military equipment to thousands of participating law enforcement agencies across the country. The events of Ferguson called attention to the controversial allocation program, when images of war-scarred vehicles going head-to-head with citizens poured out of Missouri. Both Ferguson and St. Louis County PD have received equipment from the government, including helicopters and trucks. In 2014, the Ferguson Police Department reapplied for the 1033 program just months before the death of Mike Brown.
In 2014 in collaboration with The Marshall Project, MuckRock completed the initial breakdown of the Pentagon's agency-by-agency data for it's 1033 Program. A request for all participating agencies nationwide as well as for a database of tactical equipment distributed was sent to The Defense Logistics Agency that oversees 1033. Although the DLA was willing to release its full agency roster, they insisted that data could only be allocated down to the state level. When a request was filed state-by-state, 37 states complied - which led to the DLA quietly releasing the full data on its site.
This came a week before the White House released their official review of LEAs.
Here, a helpful graph that breaks down the Tactical Items Distributed by Department of Defense 1033 Program from 1990 to 2015…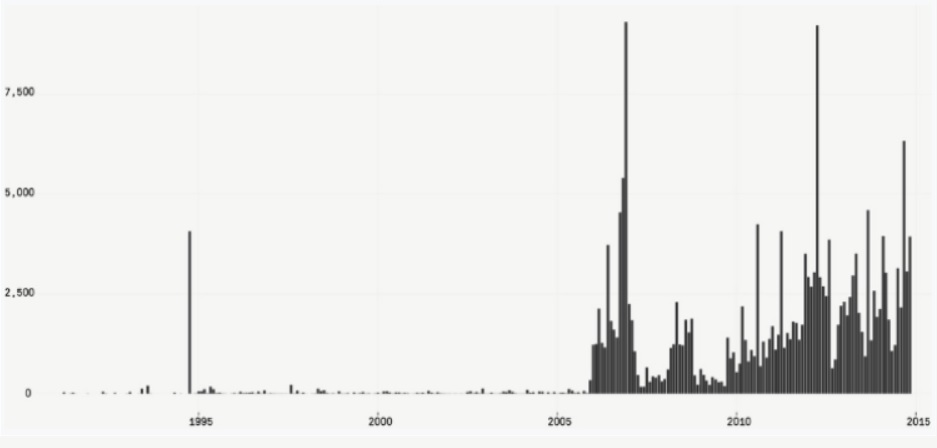 MRAP Training
Mine Resistant Ambush Protection Vehicles, or MRAPs, are military grade armored vehicles produced as part of the MRAP program thanks to the Pentagon's 1033 initiative. Their blast-resistant underbellies and thick layers of armored glass were designed to counter the IEDs that ravaged US troops during the Iraq War. MRAPs have become a figurehead of intimidation in not only federal but local police departments.
These mine resistant vehicles that are now typical among law enforcement agencies nationwide already strike caution about the reality of a military state In a request sent to the Willimantic, CT police department regarding the usage of MRAPs, the documents sent back presented a lackluster training manual.
This led to a project on the training required for police use of this military equipment, which revealed that some California police departments have require as little of 15 minutes of behind-the-wheel experience before an officer is good to go.
Dakota Access Pipeline
NoDAPL was yet another peaceful resistance engulfed by a calculated government crack down. Excessive force and conflict level equipment characterized law enforcement efforts to intimidate and clear Standing Rock protestors.
Internal Communications
Just this month, North Dakota Governor Doug Burgum released records regarding the clearing process of the forced Standing Rock evacuation. In a memorandum within his office, Burgum names NODALP as a textbook example of "21st century protesting" all while justifying removal of protestors under the guise of an "ecological disaster waiting to happen". His vision of the state of new millennium activism cites the recent advents of anonymous crowdfunding, social media and celebrity endorsements …

along with a hip political trend known as "passionate causes". In the files, Burgum references the stanch need for removal due to environmental threats, and no he is not referencing the Access Pipeline that could potentially spill millions of gallons of crude oil into the environment.
The documents also reveal a list of "fairly vanilla" talking points contrived for Gov. Burgum in an email correspondence within the Office of the Governor.

Particularly in a high profile case such as NoDAPL protests, look into communication and memos within government departments that can give you insight into the administration's tactics and justifications for silencing civic engagement.
External Communications
Heavily redacted emails released from Wisconsin County Sheriff Office regarding their deployment of troops to Standing Rock show the influence constituents can have on elected officials. Beyond the black bars, there is an outpour of frank statements that call for Dane County Sheriff Dave Mahoney to reconsider.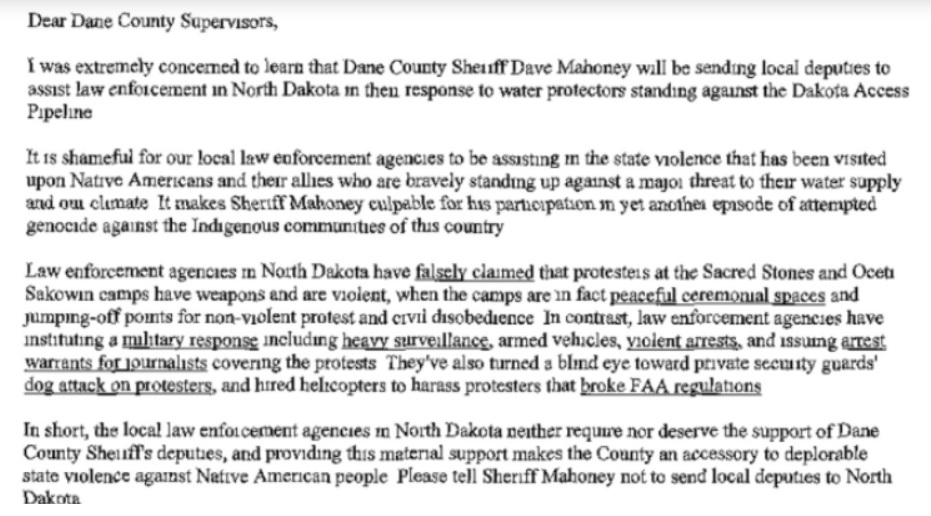 Sherriff Mahoney cites his constituents' commitment to end involvement in NoDAPL as the direct cause of his trooperss being recalled from North Dakota. The effort of these citizens to call out an injustice is an amazing example of how public pressure can influence direct action.
Photos and Footage
Video footage and photos released by the Ohio State Highway Patrol gave us a glimpse into the chaotic conditions at Standing Rock. It captures protestors being shot with rubber bullets, an amass of trooper vehicles filing into the camp, activists being bombarded with water and indiscriminate arrests. Reading about the intensity of the camp and the politics behind the protest informs us on one level. To witness these events through POV videos and pictures that capture the emotional toll on the people involved ground the issue in a reality more difficult to turn away from.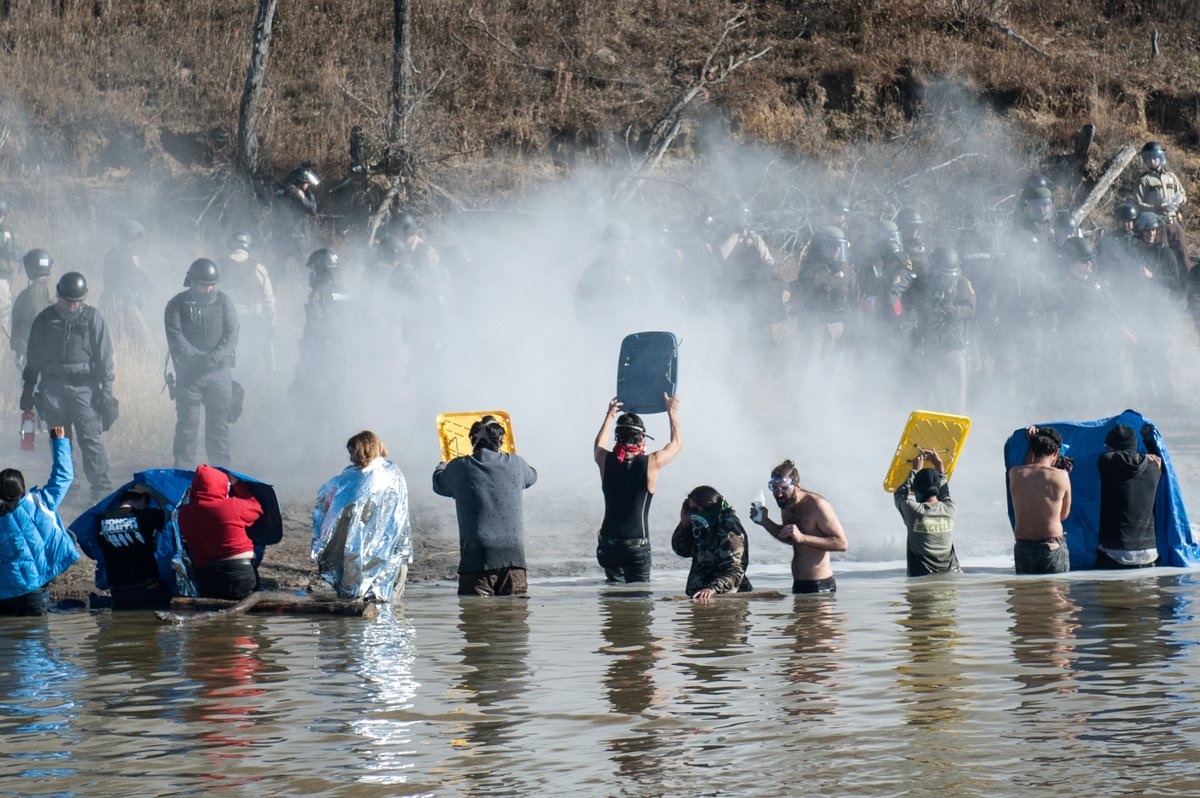 ---
Image via Wikimedia Commons and is licensed under CC BY-SA 4.0