With fake news seemingly everywhere and government secrecy becoming the norm, public records are more important than ever. To help, I'm pleased to share that FOIA Machine is joining MuckRock. The two sites will continue to operate independently to offer easy, accessible tools to help reporters, researchers, and the general public file, track, and share their public records requests.
Since its successful Kickstarter in 2013, FOIA Machine has helped journalists around the country write and manage their public records requests. It's been used for projects large and small, and it helped galvanize the interest of thousands of users.
Now, that same community will have access to a rebuilt FOIA Machine that follows the same principles, but also taps into MuckRock's rich database of agencies, jurisdictions, and exemptions.
In fact, the two sites will now share the same codebase, as MuckRock goes open source. As improvements are made to one tool they will more easily be developed for the other.
FOIA Machine will remain free to let users manually track their own requests, while MuckRock will continue to offer a "full service" experience that submits the requests directly to the agency, automatically follows up, and conveniently digitizes any responsive documents.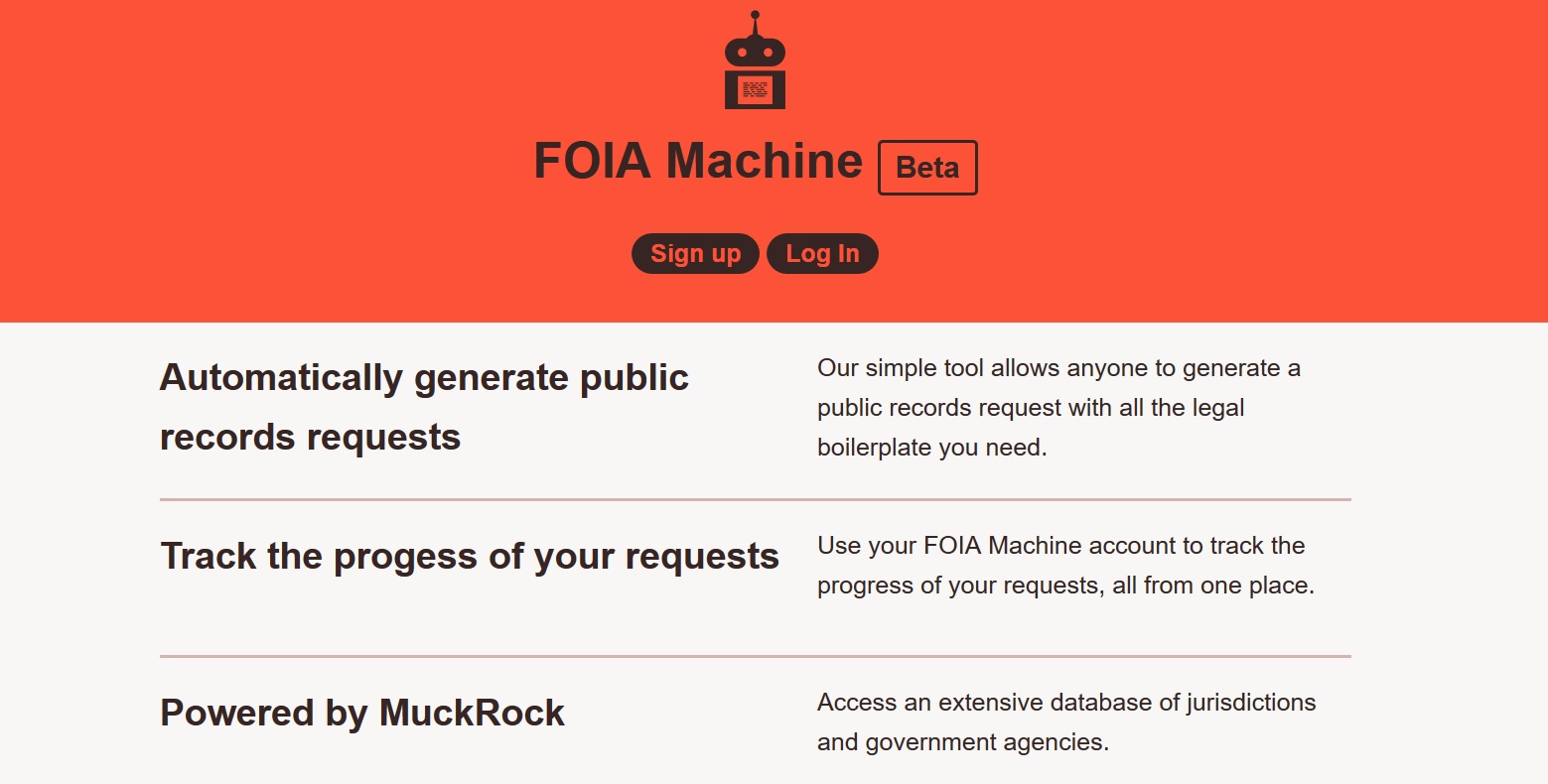 FOIA Machine's Coulter Jones, Djordje Padejski, and Shane Shifflett will join MuckRock's advisory board and help both tools continue in their joint mission of making government more transparent and our democracy more informed.
As journalists, researchers, and ordinary citizens continue to fight for government records at all levels, we're hoping that this transition will give users of both sites powerful new tool for ensuring transparency at all levels of government.
Over the next few weeks, current users of FOIA Machine will receive an email detailing how they can have their accounts transitioned over to the new site. If you're eager to go ahead and poke around, you can try it out the beta of the new FOIA Machine here (you can use either your existing MuckRock credentials or create a new account).
And finally, if you care about access to public records and government transparency, please consider making a tax-deductible donation. We are a tiny team, and your support means that thousands of journalists, researchers, activists, and ordinary citizens will have a better resource for holding government to account.
Frequently Asked Questions
Is FOIA Machine still free?
Yes, FOIA Machine is still 100 percent free to use and still open source. The FOIA Machine Classic source code is here, and the new FOIA Machine codebase is here, now part of the MuckRock source code.
Will my current FOIA Machine requests be available on the new platform?
Yes, but not quite yet. The updated FOIA Machine is currently in an open beta. Over the next few weeks, we'll port over existing user accounts so that you can log in to the new site. By the end of the year, we'll migrate all of your requests over to the new platform as well.
Is the original version of FOIA Machine still available?
The current version of FOIA Machine is still up and running and will be until March 31, 2017. At that point, we'll have migrated all users and requests over, and we plan to switch everything over to the updated platform. In the meantime, we're looking for feedback, bug reports, feature requests, and contributors, so please get in touch.
The original FOIA Machine source code will remain available to those interested in self-hosting it.
I have a question not answered here.
Please get in touch and we'll do our best to answer it.