In the wake of last week's Trump Upset, fans and foes alike took to their keyboards in a flurry of communal anguish and penned notes of cheer, solace, grief, tortured optimism. And scanning the feeds alongside tired eyes were the bits and bytes of code that comprise our police force's social media surveillance software.
Yes, if you were upset online in some places, you can assume that at least local law enforcement registered your message.
Whether it be through software like Geofeedia or SnapTrends, which help officers scan and correlate information from multiple outlets using geolocation information, or via their own personal profile pages, we want to know what baggage an online presence brings in this new era. Since opening its social media surveillance survey, MuckRock has received over 150 submissions from people wanting to learn more about how their local police departments are interacting with social media. We're continuing to accept your suggestions, and beginning to explore the returns, with some surprising results.
For example, in Cambridge, sometimes affectionately referred to as the World's Most Opinionated Zip Code, the local police department wrapped up a trial relationship with SnapTrends at the beginning of the year.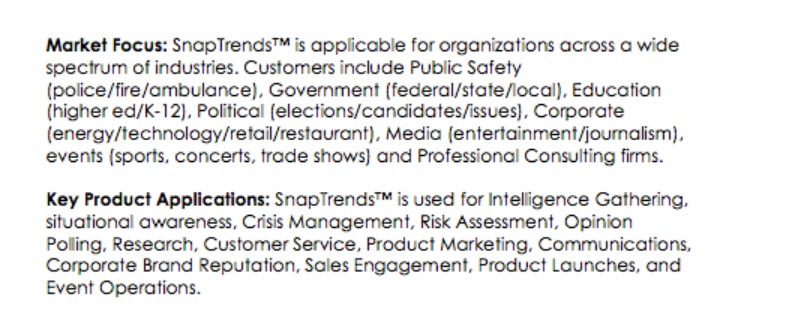 The department claims to no longer use any sort of social media surveillance equipment, but for a time, they were testing out features like the ability to heatmap movement based on geotagged posts …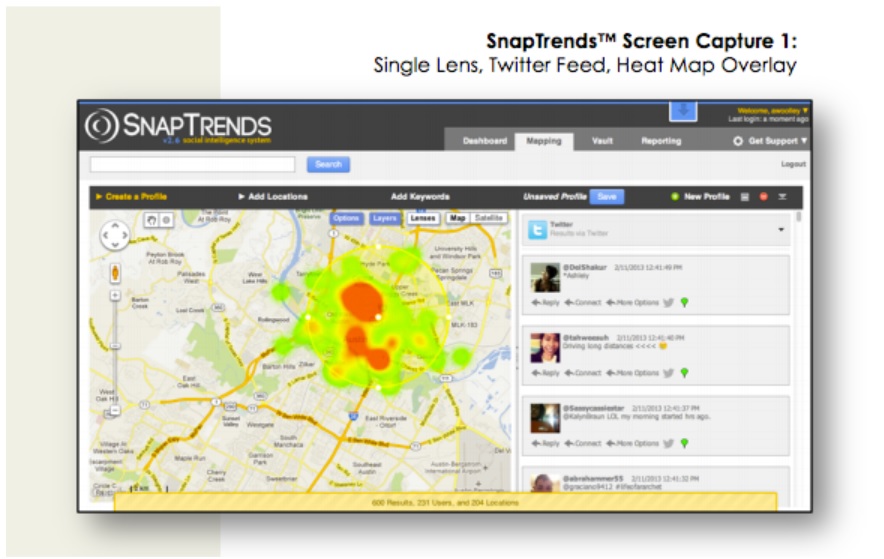 and map online interactions between local users.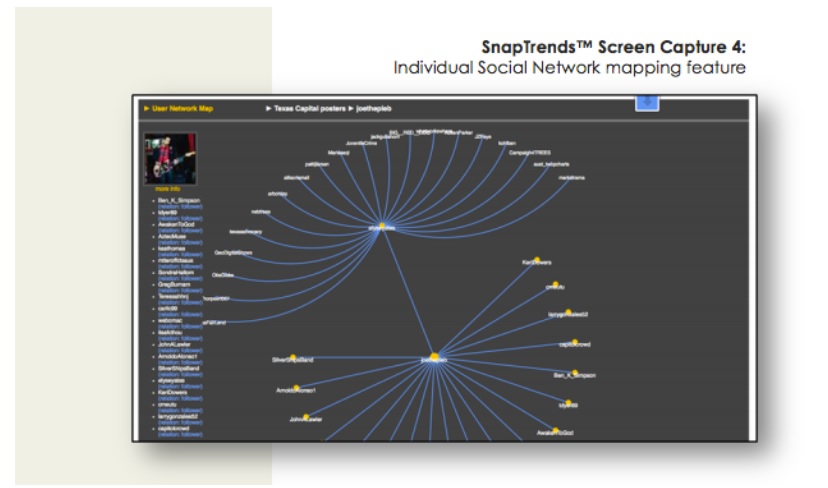 In Boston, our request was rejected on the grounds that the bidding process is ongoing, suggesting that the BPD is at least shopping for similar equipment. Last year, it was determined that the Department was experimenting with Geofeedia, but a variety of vendors - Brightplanet, Intrado Inc, LifeRaft, Magnet Forensics, Media Sonar, Signal Corporation, and ZeroFOX - exist as options.
If you haven't already, please submit your local town or county to our form and we'll submit a request to find out if your town or county is monitoring your feed and putting policy safeguards on their own powers.
In times when one expects vitriol online to be baseless and alien, such software may seem benign enough, probably only used to "catch the bad guys." But as many are learning, when the dominant political voice is not one's own, to speak up against it in any forum can encourage caution or other impositions on our First Amendment rights.
The SnapTrends brochure has been embedded below, and the rest of the docs can be read on the request page:
---
Image via Wikimedia Commons and is licensed under CC BY 2.0