Documents provided by the Federal Trade Commission detail nine complaints made about Coursera, several of which allege borderline or outright illegal policies implemented by the firm described as an "educational technology company that offers massive open online courses"
All but one of the complaints were filed within the last year; the most recent complaint in the documents, filed February 12, 2016, involved a customer who paid for a package of ten courses, but found themselves unable to complete all of them due to lack of time.

They were unable to get any money back despite the fact that they had only started one of the courses.
Four complaints were filed in January of 2016 alone. One customer was trying to decide whether a course would be part of recommended training for employees at their business. This customer opted for a certificate, which requires payment. Coursera asked for their credit card details, which they provided, and then required them to take a picture of themselves with their webcam in order for registration to be complete. Being at work, this customer could not use his webcam to snap a selfie.

That didn't stop Coursera from charging his credit card anyway.
In mid-January, a customer who paid for a series of ten courses at a discount filed a complaint. The first course, allegedly for beginners with no experience in computer programming, involved completing an assignment that required skills that were not yet taught in the class. The customer wished to drop the course and obtain a refund for the four classes that they did not even begin, but Coursera refused to return their money, citing their refund policy. "We feel as though we were set up and we fell for it."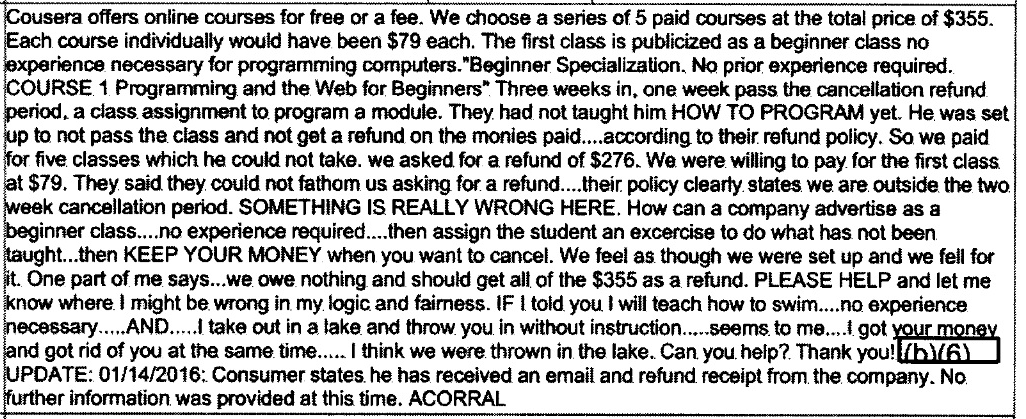 They were later provided a refund, perhaps due to pressure from the FTC.
Another January complaint, submitted in Spanish, described one customer's apparent frustration with the fact that they signed up for a course on the subject of Spanish but were instructed in English.

A Belgian citizen living in Switzerland who instructed courses on Coursera complained that they had their account suspended for reasons they believe are illegitimate. The complainant alleges that Coursera "fails to abide by the obligation of giving appropriate notice under Safe Harbor."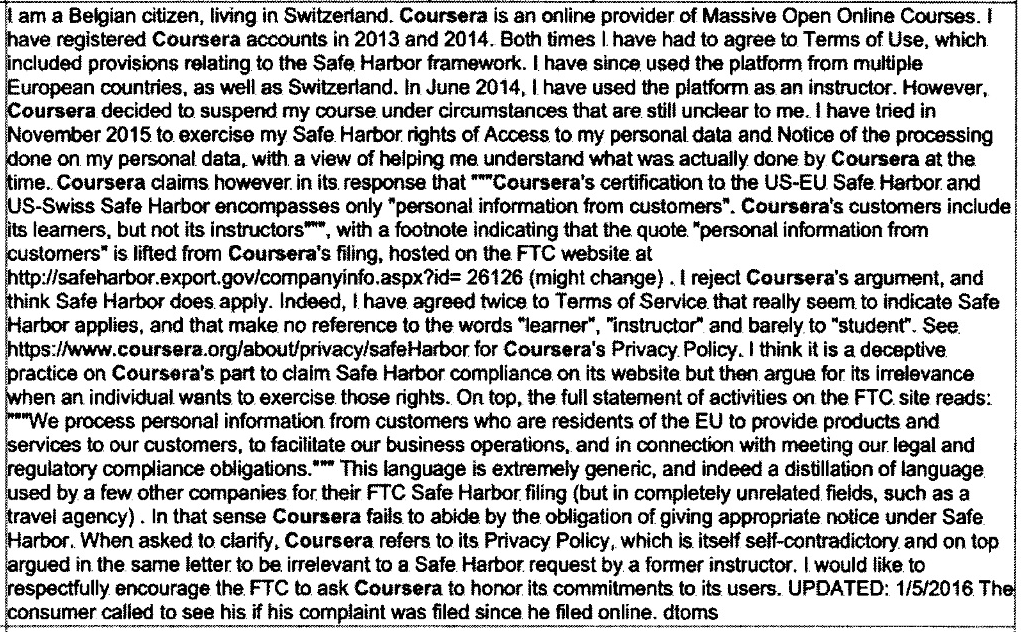 One forward-thinking customer filed a complaint merely to have it in writing that they unenrolled from a course within the two-week period during which refunds may be given.

Another upset patron paid for a digital marketing course, but decided to unenroll within the two week period. They allege that the obfuscatory instructions "do not correspond to the reality of the website," making it impossible to unenroll. "There is absolutely no way to obtain a refund. And contacting them through the links they provide is impossible. I have been defrauded and I can send you the screenshots of the website."

Allegations from January 2013 and August 2015 describe emails from Coursera which are impossible to unsubscribe from.

Indeed, numerous customers have taken to Twitter for months to complain about the broken "unsubscribe" link at the bottom of Coursera's maddeningly frequent emails.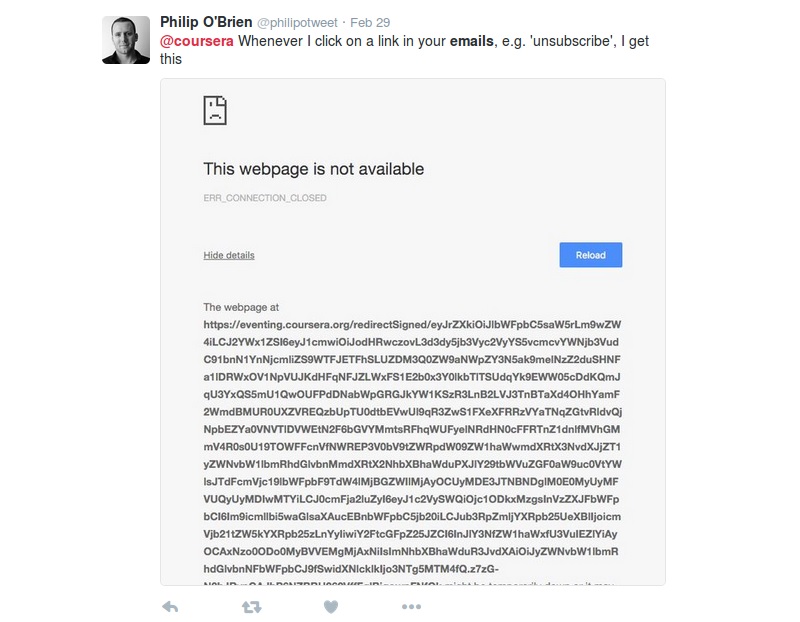 It's worth noting that if Coursera were found to be in violation of the CAN-SPAM Act, it could face penalties of up to $16,000 per email which violates the law.
Read the full complaints embedded below or on the request page:
---
Image via Wikimedia Commons