With agencies increasingly using an array of exemptions to deny access to information, we want to help requesters fight back. With the generous support of the Laura and John Arnold Foundation, we're launching a project to track every public records exemption in all 50 states - and to develop resources for the public on best practices for addressing the exemptions in the FOIA appeals process.
The power of administrative appeals is undeniable: At the federal level, over 40 percent of appeals resulted in rejections being overturned last year, according to FOIA.gov data.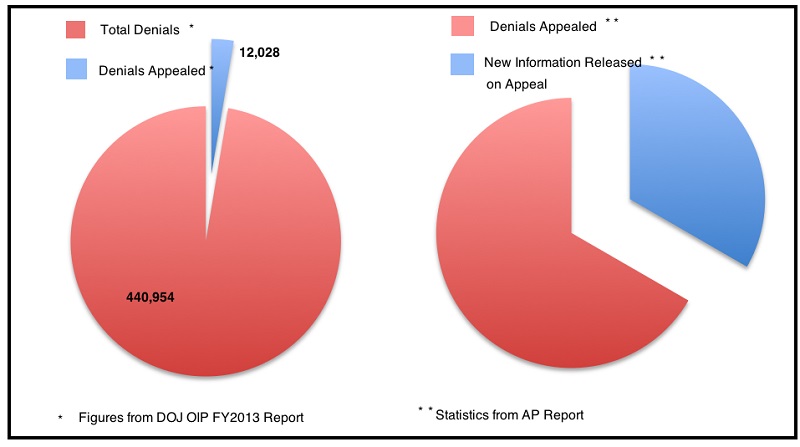 Image via National Security Archive
But the process is too complicated and weighted in the agencies' favor - while they see hundreds or thousands of requests, a requester may only file a handful.
So for each type of exemption or rejection, including the use of delays or fees, we'll collect the information needed to help requesters keep public information public:
A description of the rejection.
The legal basis for the rejection, including any laws or policies it's based on.
Examples of when it properly and improperly applied.
Data on how often we've seen the exemption or rejection used, as well as how often we've seen it appeal.
Sample, tested language that anyone can use to appeal the rejections, as well as other strategies to work around denials of access.
It's an ambitious project: Exemptions are hidden away throughout every state's laws. But the right to know is a right worth fighting for.
The first phase of the project is building a database detailing high-level information on each state's laws. Newly revamped state pages are a step in that direction (see California and Massachusetts), providing an overview of each law's key points, data on response rates, and links to useful outside resources.

If you'd like to share your knowledge of public records and make our fifty states a little more transparent, we'd love your help, and we'll have opportunities for volunteers to earn free MuckRock requests for helping build the best public resource available. To get started, just register with the form below.
We're grateful to the Laura and John Arnold Foundation for their critical support of this project, which includes a two-year grant to help make this work possible.
---
Image by Mass Communication Specialist 3rd Class Kellie Bliss via Wikimedia Commons