Who's watching you? And who's watching the watchers? In Seattle, it's a surprisingly complicated question, as citizens started noticing surveillance cameras sprouting up on utility poles around town.
Another #SEAspy camera by 23rd & Union. Is this also "not your equipment", @SeattlePD? Do you know who installed it? pic.twitter.com/JH9sUpVfBQ— Lee Colleton (@sleepylemur) August 4, 2015
@sleepylemur @SeattlePD @SeattlePrivacy @SEACityLight @CivilRights @ACLU_WA We are looking into to it. I have included @seattledot also.— Seattle Public Util (@SeattleSPU) August 4, 2015
Phil Mocek, a long-time MuckRock user, filed a request last August to find out more. In November, Seattle City Light provided some of the documentation he was looking for, and the results were surprising.
According to emails provided by the agency, the cameras came from a variety of federal offices, including the Bureau of Alcohol, Tobacco, Firearms and Explosives as well as the Federal Bureau of Investigation.
Seattle City Light released an email asking around about some reports of suspicious new cameras bloggers were noting, promising confidentiality but asking that agencies keep him abreast of new cameras.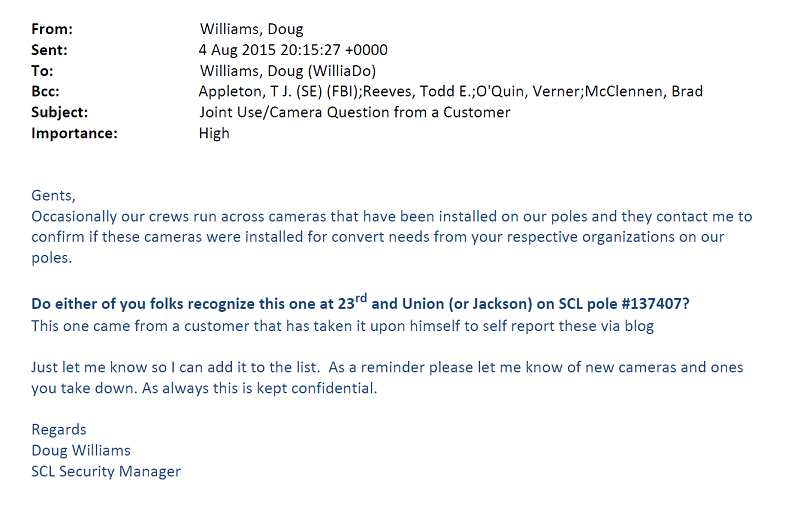 Apparently these cameras were going up so often there was a rumor just anyone could put up a camera of their own:

The installation of cameras is a particularly hot issue in Seattle, which, in 2013, passed some of the most stringent laws in the country regarding the use of surveillance technology.
The ATF had previously disclosed that it was operating several of the cameras, only stating that it was to "support an ongoing federal criminal investigation."
But it looks like at least some of the uses of the federal surveillance technology were over fairly local issues, including surveillance aimed at improper disposal of grease by local restaurants:

What else was being surveilled in Seattle, and why, however, remains largely an open question. Mocek filed a follow up request asking for the list of surveillance equipment in use.
The city's response? They provided a partially redacted spreadsheet, but said the existence of other cameras, though likely publicly viewable, are exempt from disclosure as part of an active investigation — and that the agency was giving the Department of Justice time to file for an injunction against the release of the requested documents:
.@SEACityLight are delaying my #FOI request for rogue surveillance camera list so US DOJ can request an injunction: https://t.co/4oMKjZ5M02— Phil Mocek (@pmocek) January 11, 2016
In addition to the first attached record, City Light has information regarding cameras placed on poles as part of law enforcement agencies investigations, as reflected in the attached redacted record. We intend to provide third-party notice to the Department of Justice because the responsive information reflects federal law enforcement investigations. We understand that the federal government has a somewhat involved process for obtaining authorization for seeking an injunction that will take a minimum of 120 days. We believe that a court will give the federal government deference regarding the timeline for seeking injunctive relief. This may substantially delay when responsive records could be made available to you. It also means that there is a likelihood of litigation and a court may find that the redactions are appropriate. You may have gone through the litigation and achieved no better result than what we can offer today, which is to provide you the attached redacted record.
Mocek has appealed the withholdings.
One of the emails has been embedded below, and the rest can be downloaded via a zip file on the request page.
---
Image by Peter Griffin via Public Domain Pictures