In June, MuckRock announced a project to challenge the stagnant discussion surrounding gun violence as a public health issue, beginning with a survey of the policies and data currently being collected by states and local agencies.
Due to a 1996 amendment, the CDC is legally prevented from conducting research on gun violence, and as such, the organization has shied away from the topic. To put it into perspective: gun violence of all kinds kills almost as many people car accidents, but unlike car accidents, little to no federal research is done on the topic.

Initial requests were filed with each state's Attorney General's Office. Because the language I used was long and open-ended …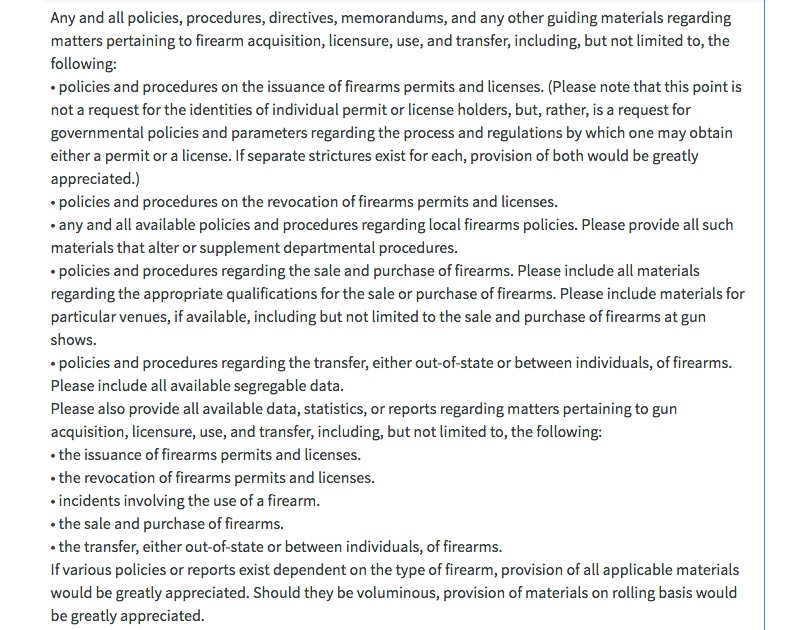 many needed clarification, and since then, they've gone in many different directions. Usually, I was redirected to a different agency, like the state police or the local sheriff's department.
Documents I did receive were variably helpful and to the point. Florida, for example, sent the Attorney General's formal and informal opinions, which read like a legal advice column on all topics.
West Virginia, on the other hand, mailed a handbook of state and federal firearms-related laws.
In Georgia, at the advice of the State Attorney General, I reached out to the Georgia Bureau of Investigation. Lisa Harris, Special Agent in Charge of the GBI Open Records Unit, sent me three lists of data: all incidents of homicide, assault and robbery with reported use of a firearm in 2015. The data from the lists came from the GBI Georgia Crime Info Center (GCIC) Uniform Crime Report (UCR). Data is self-reported by each county, meaning complete accuracy may vary.
Currently, similar lists published on the GBI website only go as far as 2014.
The data was broken down by each of the 159 counties. Out of these counties, 153 reported homicides, 156 reported robberies, and 157 reported assaults. Some counties were missing from the list, indicating that they reported no such crimes. Conversely, some counties reported over a hundred incidents of certain crimes.
Fulton County had the most robberies, 129, and the most assaults, 105. DeKalb County had 74 homicides, the most on that list. Both of these counties are in Atlanta.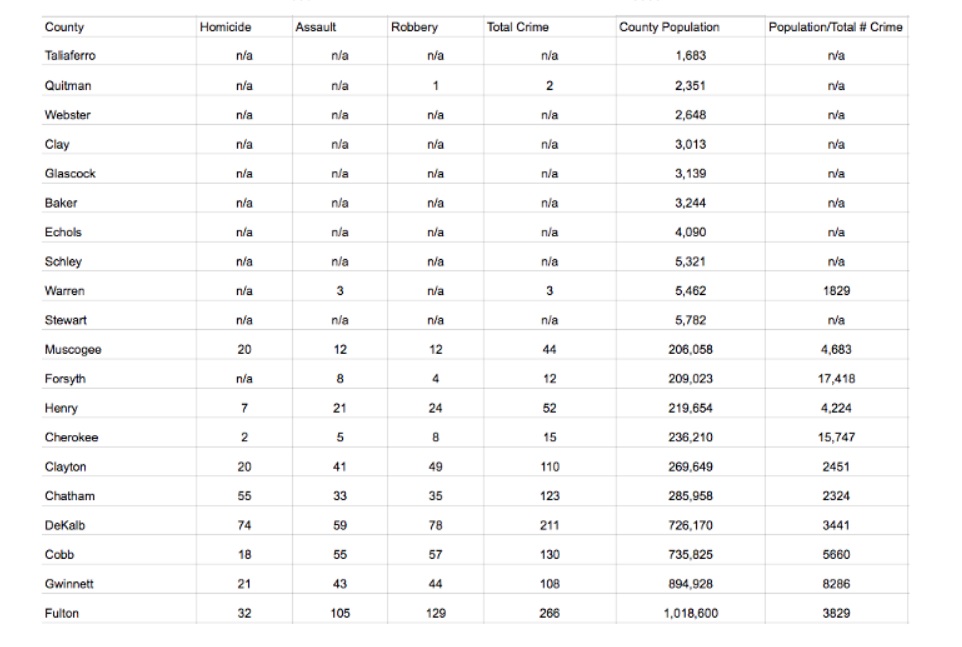 This isn't necessarily a huge surprise - Atlanta has one of the highest crime rates in the country, around 1,227.43 violent crimes per 100,000 people.

Overall crime in Atlanta, however, is decreasing at a rate faster than the national average. Between 2001 and 2009, Atlanta's crime rate dropped 40%1. Reported robberies in Fulton County made up approximately 8% of all those reported.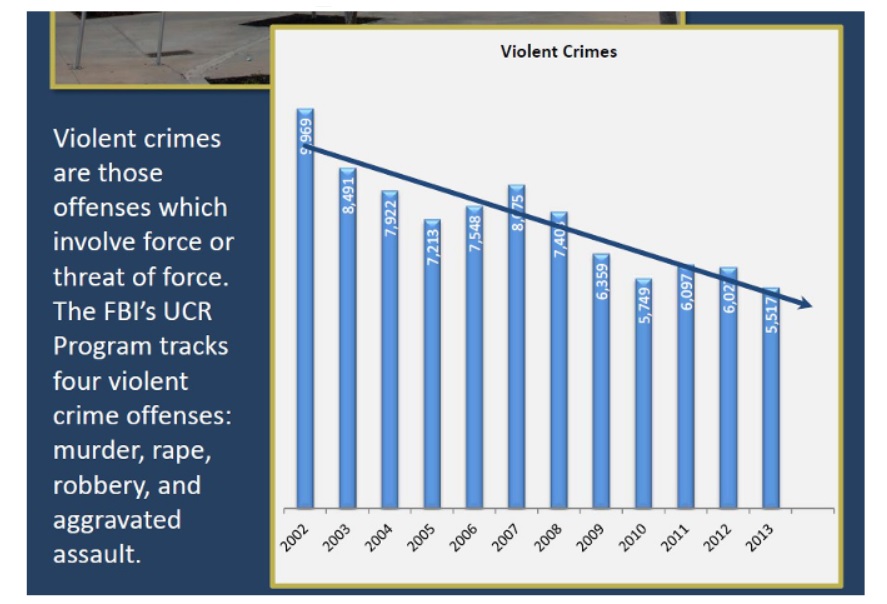 Via Atlanta Police Foundation 2013 Report
If we limit our focus and concern to statistics in urban areas, places like Atlanta, gun violence can seem isolated there. However, of all the 159 Georgia counties, 65 reported firearm-involved homicides. The nine Metro Atlanta counties collectively had 183 reported homicides with use of a firearm, about 45% of crimes reported by all counties.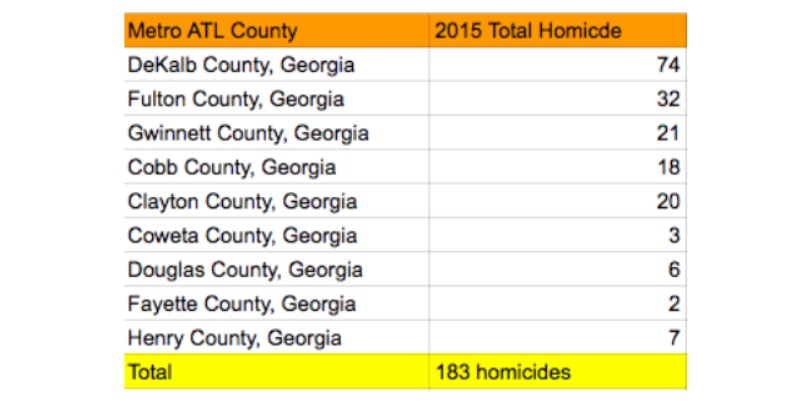 Gun violence, of course, isn't isolated to the cities. If Metro Atlanta accounts for 183 of the total homicides, the rest of the 416 occurred in more rural parts of Georgia. Treating gun violence as a phenomenon exclusive to urban areas, specifically predominantly black ones like Atlanta, reinforces stereotypes that aren't supported by the data, which lacks racial breakdowns.
It also ignores the dangers found in rural areas, where, according to 2013 study, overall, injury-related fatalities are higher, and the fact that for those on either side of the teen and early adult years - those 0-14 years and over 45 - the risk of firearm-related injury death was higher in rural areas than in urban.
MuckRock will continue to file and follow up on these requests, which you can find on the project. With swaths of our understanding on gun violence coming from self-reported statistics or media compilation, it remains incumbent on the public to insist on getting an accurate look at what's going on.
The data has been embedded below, or can be downloaded on the request page.
---
Image via Wikimedia Commons and is licensed under CC BY-SA 2.0