As we reported earlier this month, Kim Davis initially pushed back on requests for digital copies of emails she sent prior to being jailed for contempt of court. She said that it would cost more than $1,000 to print and mail thousands of emails.
"I do not have the means to transfer electronic [sic]," Ms. Davis replied, when asked whether she could save time and expense by sending the requested emails electronically.
The Kentucky Open Records Act requires agencies to provide an electronic copy of a given record if the record is stored in an electronic format. But, even for a narrower request for emails with papal keywords, Davis said that she would only send the records by fax or in hard copy.
"Shawn, I already have them printed and am ready to fax, sorry. I am old school on this email stuff," she wrote by email.

MuckRock pointed out the relevant provisions of Kentucky's public records law, but Davis printed and mailed the documents.
When the two papal emails arrived by post, a footer on both pages made clear that Rowan County uses a webmail client based on Microsoft Outlook. Such a tool allows the user to export emails into electronic files. We offered to narrow the scope of our request to make the search for emails easier, but insisted that it was unnecessary to print the emails in the first place.
"That will help us respond in a manner that is more economical to both our office and to you," Davis replied to the offer.
On October 14, we narrowed the request to encompass all emails sent to or from Kimberly Davis from a .gov email address since August 1.
This did not clear the path entirely.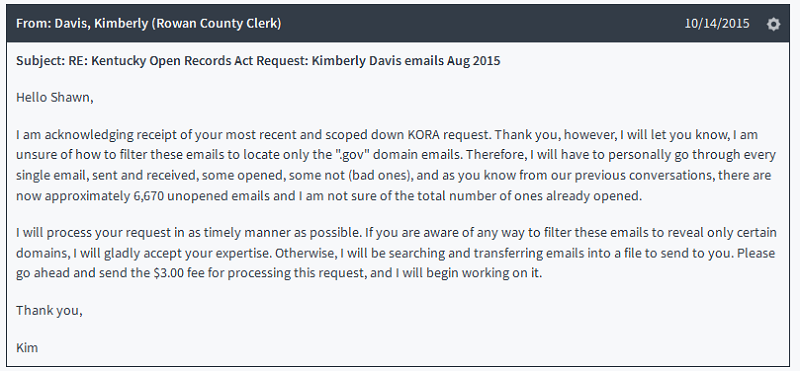 Knowing that her agency uses an Outlook-based client, MuckRock emphasized that Davis should be able to quickly search for emails to or from government addresses.
"I have tried to filter by entering '.gov' but it pulls over every email, so I will await your instructions, because I am not doing something right," she replied.
Luckily, the clerk puzzled out how to filter and began forwarding hundreds of emails —482 in total — a few hours later.
"It has been an extremely long morning, but you have every single email from 08-01-2015 to present from or to a '.gov' domain email address," Davis wrote once she had finished, adding that they "won't be very interesting reading."
As promised, the bulk are daily transmittals to the state automobile registry and other mundane exchanges. But the emails also trace deliberations among Kentucky clerks following the Supreme Court's ruling that made same-sex marriage legal across the country.
Since January, two months after being elected to her first term, Davis has been asking Kentucky legislators to exempt county clerks from issuing marriage licenses at all, according to emails released to Jason Leopold at VICE.
Davis told legislators that the Kentucky County Clerks Association had formed a committee in anticipation of the Supreme Court's ruling.
Meeting minutes found in the latest emails released by Davis indicate that the KCCA advised its members to follow the ruling, and explored options for verbiage on marriage certificates.

"Do not put yourselves in a lawsuit," read the KCCA meeting minutes from July. Davis attended the meeting, according to the document.
While Kentucky Governor Steven Beshear directed clerks to use a gender-neutral form, many clerks called for distinct means of recording heterosexual and same-sex unions.
"Many clerks want to have two forms for the marriage license," the July minutes read. "Some people have complained that they do not want Party One nomenclature instead of Bride or Groom. We feel we need to continue with two applications for the present. Also there was discussion on the addition to Gender on the Marriage License. It would help identify the person in research in future years."

Minutes from the association's August meeting indicate that a KCCA committee continued to research how best to handle "biological terms" on marriage licenses, as well as possibilities for using two different forms. The August meeting, which Davis also attended, was held a week after she defied a federal court order by refusing to issue marriage licenses to several gay couples.
Meanwhile, a clerk in Warren County weighed another matter of marital validity. "I have a marriage license that was sent in today that the official that performed the ceremony is from the Church or the Latter Day Dude," she wrote.

"We googled and there is such an organization. They practice Dudeism?!?!? Has anyone ever heard of this? On their website it says check with your County Clerk first before marrying but of course they didn't."
In September, the association circulated a survey to county clerks across Kentucky.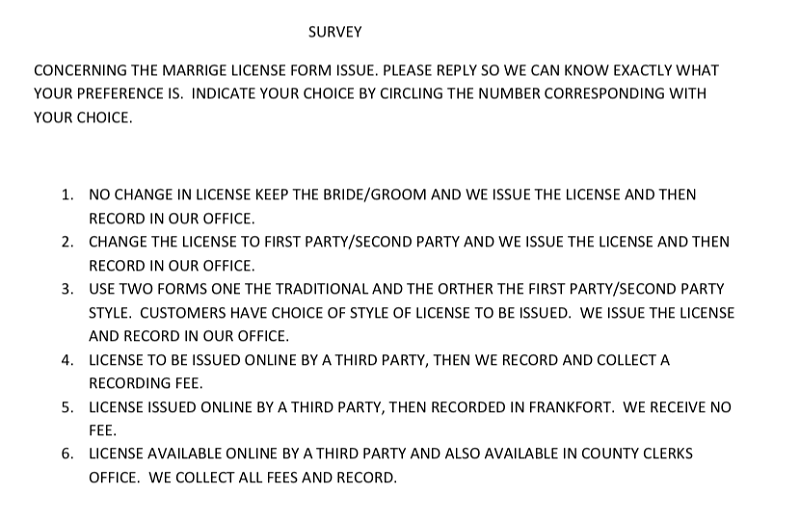 The survey offered six options for processing marriage licenses. These ranged from maintaining the "bride/groom" wording — despite its genital inaccuracy — to moving clerks out of the game altogether.
Overwhelmingly, Kentucky clerks voted to keep marriage licensing in-house and to use two forms, per emailed results, with 54 votes out of a total of 93. Twenty-four clerks preferred to move the licensing process online through a third party, and have the clerk's office record unions for a fee. Only two clerks voted to keep the bride/groom forms without any change.

Davis did not answer how she voted, nor did she provide any email with her submission to the poll.
Beyond shedding light on logistics of clerkdom, the released emails include conversations between Davis and other clerks about her defiance of court orders.
Billy Joe Lowe of Green County sent one email that encouraged clerks to "uphold your oath of office" by denying marriage licenses for same-sex couples. In July, Lowe told Kentucky Public Radio that he would issue licenses only to heterosexual couples.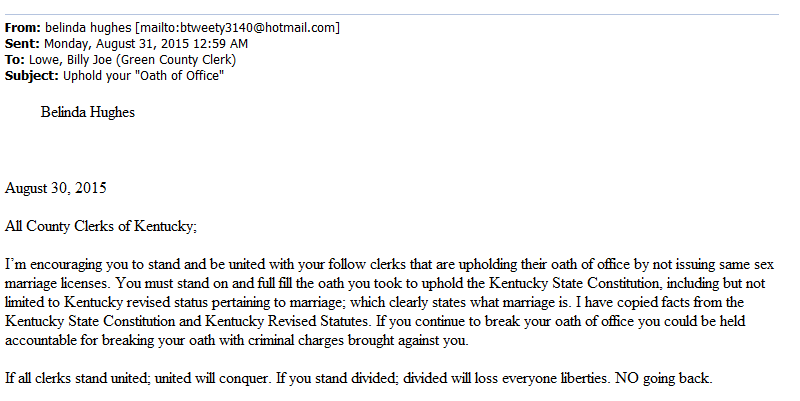 "I worry more about doing the right Christian thing than worry about what some idiots up in Washington, D.C., think," Lowe told the station. The next day, Lowe walked back his resistance, saying that he would issue licenses to all couples since he lacked resources to fight lawsuit over the matter, according to The Kentucky Trial Court Review.
Two days before she was sent to jail for contempt, Mr. Lowe sent Davis an email of encouragement.
"I am thinking about you and your deputies. Best of luck Thursday in court!!" Lowe wrote. His emails included two images in his note, the first a logo for Christ, a German watchmaker, the second a photo of an iconic statue of Christ that looms over Rio de Janeiro. Lowe did not respond to questions about the German watch logo.
Another clerk emailed the same day to tell Davis that she was "Lifting you up in prayer."
The day after Davis was sent to jail, another clerk seemingly joked about reporters failing to realize that Kentucky has a Christian County, as many headlines summarized Davis as a "Christian county clerk".

The same clerk for Christian County circulated an op-ed a few days after Davis was released from jail. The article, written by Don Blevins, Jr. of Fayette County, called on fellow clerks to issue marriage licenses as "an administrative act" that records information critical for future demographics research.
"I have been struggling with this issue for Weeks trying to sort things out. I am comforted by Don's matter of fact explanation," wrote the Christian County clerk in the email thread.

As Davis's defiance garnered widespread press coverage, Davis received an alert of an attempt to "dox" her. On September 1, a state security analyst wrote that her phone number, email address, physical address, and family names had been posted to Pastebin.

"We have been notified that a person identifying himself/herself as "Vizzy Wizzy" is doxing your information. Doxing is when a malicious actor collects and releases a target's personal information, which may lead to identity theft, targeting of family members, "swatting", purchases made on behalf of the target, threats/harassment, as well as further social engineering against and phishing emails sent to the target," the analyst wrote to Davis.

The analyst advised that Davis could request Pastebin to remove the information, which Davis apparently did.
The above emails give a partial glimpse into how Davis has handled her duties following the Supreme Court's ruling on same-sex marriage. The process of obtaining the emails likewise illuminate the pushback many agencies give to providing documents electronically, as well as the trouble with requesting emails from the very person who controls the inbox.
To her credit, Davis reduced fees from $1,200 to $6 once she admitted that electronic transfer was the required means of providing the documents, not to mention the easiest method for herself. Since generous transparency warriors contributed $450 toward the original fee estimate, MuckRock will use these funds to press Rowan County for additional emails sent to and from the clerk's office.
Read the released emails here.
---
Image via Rowan County Clerk