A version of this article originally appeared on Motherboard
It's been two and a half years since I filed my first request to the NYPD for documents on drones. During that time, two mayors and two police commissioners have made public statements on drones in law enforcement. But the police department continues to fight to keep secret every shred of paper that it has on the subject.
Seven months after I filed a lawsuit against the NYPD, the court at last has recognized that the police have never given solid reasons for keeping drone records from the public.
Here's a timeline of my legal hide-and-seek with the NYPD over drone documents, interspersed with what's already public regarding the department's drone dalliances:
Earlier this month, the judge in MuckRock's case ordered the New York City Corporation Counsel to explain in greater detail just how publishing drone documents might "enable miscreants," risk the safety of New Yorkers, or unleash the other vague wolves that NYPD officials have cried about.
New York's public records statute — the Freedom of Information Law, or FOIL — requires the government to provide any document upon request, or else give specific justification for withholding it. But the NYPD's records overseers have offered only blanket rationale for rejecting the three requests MuckRock has filed since October 2012.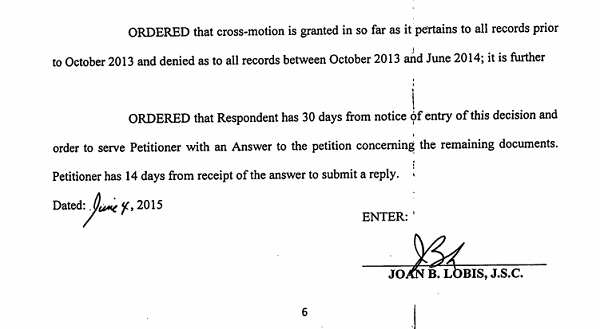 "The exemptions cited in the administrative record were applied to a broad set of documents," the judge determined. "It is not clear which documents fall under which exemption."
The police must provide more detailed arguments against disclosure of drone materials by next month.
The court order isn't all good news, though. The judge bought the city's claim that my second and third requests were mere duplicates of the one I filed in October 2012. By this standard, I should have filed suit when NYPD records officials gave their absurd response that my request violated personal privacy. That the department's answer was bogus on its face then and remains so now is immaterial, the city's brief suggests, as the clock to sue ran out long ago.
MuckRock's attorneys countered that the city was trying to "sweep noncompliance under the rug by inappropriately invoking the statute of limitations as a catchall." Specifically, the city's statute of limitations argument fails to account for disclosures of NYPD's drone aspirations since I filed my first request in 2012, including a number of official statements on the matter.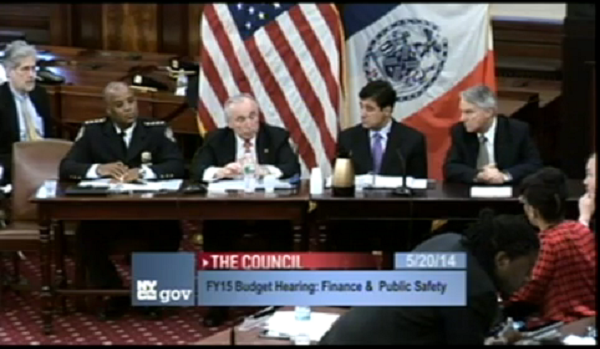 For instance, in May 2014, the month before I submitted my third request, NYPD Commissioner Bill Bratton and Deputy Commissioner John Miller confirmed in a public city council hearing that the department has researched unmanned technology as a potential investment.

To illustrate how drones might be useful in the future, Miller suggested that a drone equipped with gunshot detection technology might be useful at identifying criminals. He pointed specifically to shooting hot spots in the Bronx or in Brooklyn.
"But we're not there yet, we don't have it and we're watching it carefully to see if it eventually develops into something that would be practical," Miller summarized.
Such public acknowledgements by top brass clearly give lie to previous claims that the department cannot safely release its drone paper trail. If the deputy commissioner can testify publicly about drone market research, the NYPD can release documentation of the same. In light of these and other revelations, MuckRock filed a third request, hoping that some saner heads within the NYPD's records office might prevail. When they did not, we sued.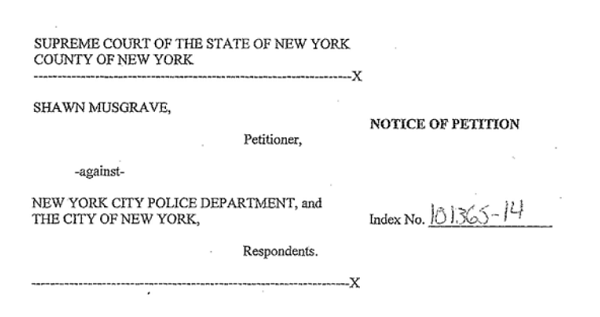 But in its June order, the court sided with the city and deemed our third request a facsimile of the previous two in terms of subject matter.
The judge might have dismissed the entire matter but for two words: "to date." As her order notes, each time I asked the NYPD for drone documents, I requested all records created up to the postmark date for the request. The most recent slice of NYPD records are still fair game.
This is bureaucratic retribution that would make Kafka giggle. The NYPD swatted away my first appeal for drone materials because it was "untimely" and so launched us on the path to litigation. Now, the calendar's march entitles me to keep suing the NYPD for records created between October 2013, when I submitted my second request, through June 2014, when I submitted my third.
Precious little sense as it makes that I can press on for nine months' worth of documents but not the whole batch — or that anyone else could file a request for the remainder without being branded "duplicative" — it's still progress.
Meanwhile, we've submitted a fresh FOIL request for all NYPD drone documents from June 2014 to date.
---
Image by Jason Eppink via Flickr and is licensed under CC BY-SA 2.0