A version of this article appeared on Motherboard
Initial goals for border drones were "unattainable", the senior aviation official for Homeland Security told a congressional committee on Tuesday. Responding to ongoing pressure from auditors, DHS acknowledged that it must provide hard evidence that drones are the most efficient tool for border security.
It's an admission that's been a long time coming. For years, watchdogs have raised eyebrows at the Bureau of Customs and Border Protection's drone program.
In a Tuesday hearing before the House committee on homeland security, the inspector general hammered CBP for failing to record even basic stats for its drones, including costs and performance metrics alike.
"This requires answering a simple question — how much does it cost to do something?" probed DHS Inspector General John Roth in his written submission to the committee.
"In the case of unmanned aircraft, we wanted to know how much it cost to own, operate, and maintain the aircraft and sensors. Specifically, how much did it cost DHS, and the taxpayer, to provide the capabilities of the Predator B unmanned aircraft?"
The Bureau of Customs and Border Protection launched its drone program with a 2004 pilot study conducted along Arizona's border with Mexico. Since then, the inspector general calculated that CBP has spent more than $360 million on unmanned aerial vehicles. As of last October, CBP had nine drones in its fleet.
The agency's tenth drone crashed off the California coast in January 2014.
According to Roth's staff, Customs and Border Protection drastically underestimated its drone costs. The inspector general's audit found that CBP neglected to include equipment depreciation, comprehensive personnel outlays, or full maintenance costs in its accounting.
For the 2013 fiscal year, the audit estimated that CBP spent $12,255 per flight hour on drone flights.
But the inspector general criticized homeland security officials for a lack of metrics to determine whether drones were a good investment, especially compared to manned aircraft or other alternatives for monitoring the borders.
"Unfortunately, despite its 8-year effort and significant investment of taxpayer dollars, CBP could not demonstrate how much the program has improved border security, largely because the program lacks performance measures and CBP was unaware of the true cost of the program," Roth told the committee.
In a 2010 planning document submitted to Congress, CBP aimed to have four drones in the air for 16 hours each day by late 2012.
An inspector general tally released in December found that actual drone flight times were 80 percent under that goal. Inspector General Roth hammered this shortfall in the hearing on Tuesday.
Another document from 2007 projected that unmanned aircraft would reduce border surveillance costs by 25 to 50 percent per mile.
"However, because [CBP] does not track this metric," the inspector general reported, "it cannot demonstrate that the unmanned aircraft have reduced the cost of border surveillance."
In return shots at the most recent audit, CBP previously countered that its early goals were based on anticipated funding that got slashed. Year after year, CBP budget requests say drones have been "instrumental in the apprehension of undocumented aliens, the seizure of drugs, and the recovery of stolen vehicles."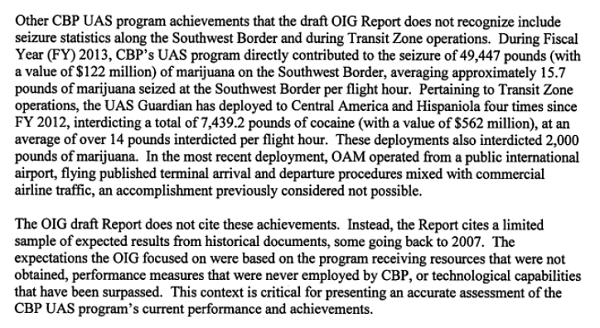 But on Tuesday, the head of CBP's aviation wing suggested that his agency just might have oversold prospects for integrating drones into border patrol.
"I would acknowledge that the [2010 concept of operations document] lays out a very ambitious and unattainable level of attainment for the UAV given the frictions of operating," said Assistant CBP Commissioner Randolph "Tex" Alles.
Alles heads CBP's Office of Air and Marine. The assistant commissioner defends drones, saying that unmanned aerial vehicles saved CBP costs while delivering solid intelligence on drug trafficking and illegal border crossings. He conceded to the panel, though, that CBP needs to come up with better metrics to evaluate drones relative to other technology.
"That's an area where we've struggled overall," said Alles in response to a question about performance evaluation.
"We are working on metrics which have never been done before," he continued.
"How do you characterize air support? How do you characterize the effectiveness of an aircraft for surveillance? How do you put a dollar value on it?" Alles mused.
Federal agencies are going to need to figure that out. The Department of Homeland Security's inspector general isn't the only one kicking the tires on drone management. Auditors for the Justice Department have also questioned drone oversight at its law enforcement components, which include the FBI, the DEA and the US Marshals.
The Department of Defense, for its part, has claimed inability to produce stats on drone crashes after an "exhaustive search".
Unmanned vehicles are one of the hottest toys on the market right now. They hold considerable promise for a range of applications, both military and civilian. But the government needs to shop smarter, open up their accounting, and show their work.
The DHS inspector general laid it out simply yesterday.
"When you talk about 'bang for the buck', you need to talk about what the bucks are," Roth summarized for the House committee. "So you need to have accurate accounting."
"And then, number two, 'the bang.' What is it you're trying to do?"
Looking forward to the day when DHS and friends figure that one out.
---
Image via Wikimedia Commons