Government agencies produce a lot of paperwork.
For journalists, researchers or anyone else interested in poking around government ledgers, this can be both a blessing and a curse. More reports means more records to request, but sheaves of forms — much of which are irrelevant filler — can also carry high costs and slow turnaround.
Luckily, standard formatting offers a workaround: by sifting through hefty-but-standardized reports for crucial sections, the savvy requester can get information without chaff more quickly and at lower cost.
As an example, consider a pair of requests for Fish and Wildlife Service reports made by MuckRock reporters in recent months.
Last November, Zack Sampson asked for "Documents for all investigations or tracking of the illegal trade of ivory in New England from January 1, 2003 until the date this request is processed. Please also include any documents related to the seizure of ivory and the destruction of seized ivory."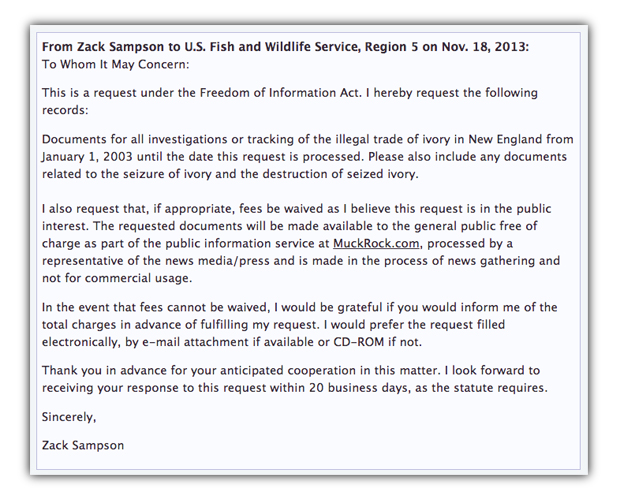 Two months later, FWS responded that they had compiled 3,683 pages responsive to his request. The agency was willing to give him the first 100 free of charge, but the remainder would cost $537.45. You could illegally buy two carved elephant tusks for about the same price, we later found out.
Zack asked for the first 100 pages and received six complete reports, chosen seemingly at random. And after reviewing the reports – the longest of which was 22 pages – we found that the free 100 pages provided were mostly administrative fluff.
Most pages contained boilerplate legalese or receipts tracking the chain of custody of seized ivory. Only the first few pages of each report contained the juicy investigation synopses we were looking for. So we honed the request to just the first three pages of each report.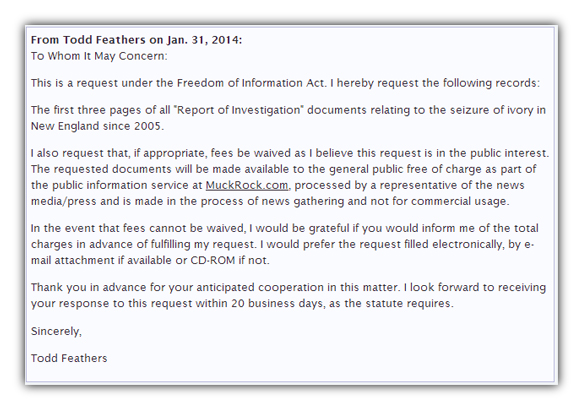 As a result of that follow up request, we received the investigation synopses for every seizure of ivory in New England from 2005 to 2013, a total of 52 reports, at no charge. The responsive documents came out to 156 pages, and FWS was kind enough to give us the extra 56 for free.
Simply put, here's the tactic at play here: Ask for a small sample of documents you think you want in order to determine which parts will actually be useful. Then ask again, for a broader scope with a narrower focus.
If you need a place to start, most agencies have lists of forms and reports schedules. For examples, see the Fish and Wildlife Service form index or the New York Police Department's subject matter listing.
---
Image via FBI.gov