Yesterday, police in San Jose issued a statement apologizing for failing to consult the public ahead of acquiring an unmanned aerial vehicle. Hours later, the department released additional documents showing the department considered itself immune from FAA regulation.
San Jose Police Department posted its statement yesterday morning, three weeks after a Motherboard-MuckRock report first highlighted that the department had received nearly $7,000 in federal homeland security funds to purchase a unit. While the SJPD records staff twice denied having any documents on drones even as its bomb squad worked through the year-long application process, last week the department released its grant application materials and documents confirming it acquired a six-rotor Century Neo 660 in January 2014.
The SJPD statement apologized for lack of transparency around the purchase, and committed to consulting the public before deploying the drone or applying for federal licenses to fly: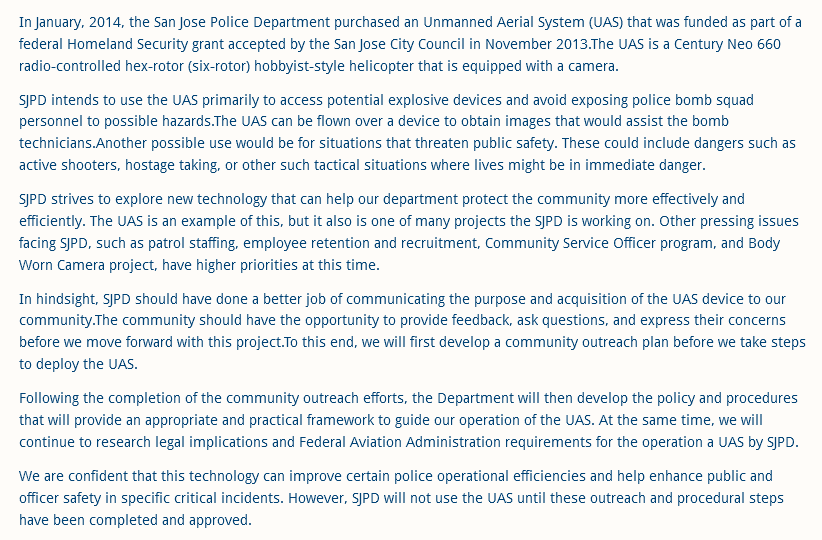 Previous SJPD statements similarly emphasized that the hexacopter will stay on the shelf until R&D analysts have a chance to research what the Federal Aviation Administration requires for law enforcement to fly drones in domestic airspace. But additional documents released yesterday evening indicate that high-level SJPD officers had erroneously concluded months earlier that the department was exempt from FAA regulation.

A summary of the memo circulated by email to the chief and several other SJPD commanders in early March simplified things further: "The UAV is not a drone. Drones are regulated by the FAA. The FAA doesn't regulate our device."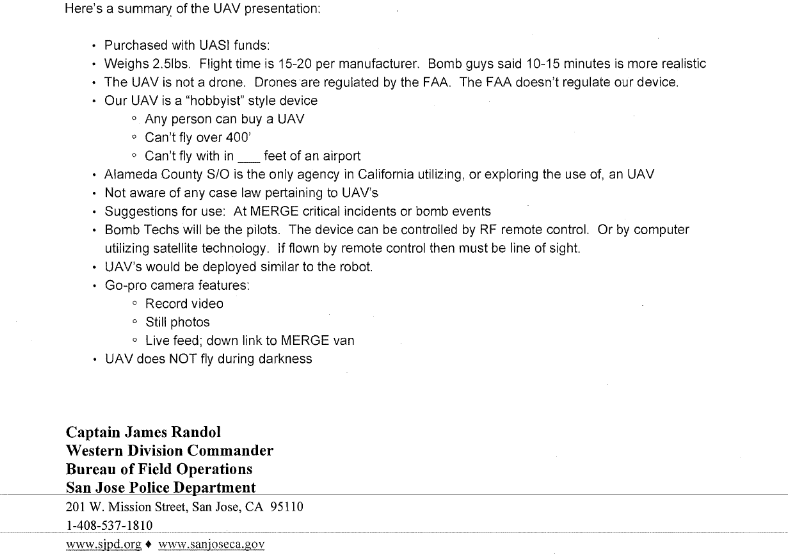 Check out the new docs here. Read the full story at Motherboard.
---
Image via Wikimedia Commons