Recent Freedom of Information Act (FOIA) rejections by U.S. Northern Command and the Department of Justice are drawing attention to the revamped arsenal in the anti-transparency toolkit: rejection-by-association. In two cases, requests were rejected because another requester did not pay assessed fees.
U.S. Northern Command closed out a request regarding the agency's five oldest requests from MuckRock user Jason Smathers:
As of 30 August 2013 we have received no payment from MuckRock for USNORTHCOM FOIA Case Number: FY13-06MAY2013-NNC49 (Congressional Committees) billed on 3 June 2013 and due 3 July 2013, MuckRock reference email: 5244-82703208@requests.muckrock.com. Payment is now more than 30 days overdue.
And so NORTHCOM unfurled its innovative billing strategy. After being asked for a cost estimate in advance on the supposedly truant request, which I submitted in May, the agency instead provided the documents without confirming fees, classified me as a non-media requester and assessed fees of $132 for four pages of documents. NORTHCOM's FOIA office then closed out a number of pending requests from other MuckRock users since I missed the payment notice, which was buried in a scanned PDF rather than via separate notification.
Full and obvious disclosure: The past month has been a hectic and I was slower in responding to NORTHCOM with some clarification than I would have liked. That's a reasonable factor to hold requests on their end, but not for ignoring explicit instructions regarding willingness to pay fees. (We often are: MuckRock has written a few hundred checks for requests this year, like this one.)
I have appealed this "surprise fee" practice and the closures. To its credit, NORTHCOM has re-opened MuckRock users' requests.
This is not an isolated strategy, though. Jason Leopold also reports, via Twitter, that he is having requests blocked by the Department of Justice due to fees owed by another requester:
The most outrageous response to a #FOIA I have received to date from DOJ. https://t.co/8diesP6hfm— Jason Leopold (@JasonLeopold) September 4, 2013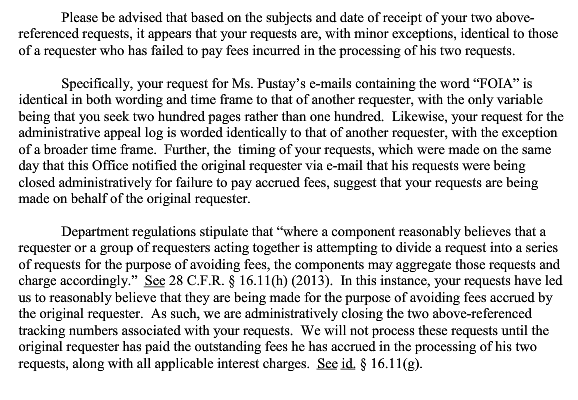 Sources suggesting FOIA requests is a regular journalistic practice; seeing it used as an invented exemption, rather than calculating a journalist's fee estimate independently, is a disheartening practice at best. We've filed a subsequent request for the processing notes for Jason Leopold's request, to get a sense for how DOJ settled on such tactics.
---
Image via Flickr and is licensed under CC BY-SA 2.0