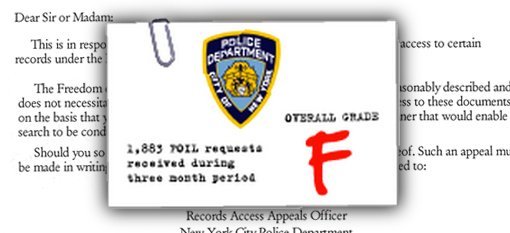 Here's the names of 496 forms the NYPD uses. Happy requesting.
Listing of NYPD forms can help requester submit targeted requests to agency deemed less transparent than NSA
The New York Police Department's records office has a twitchy rejection finger and a convenient tendency to not receive letters on time. Today, MuckRock has submitted an official request for an advisory opinion on NYPD's latest rejection. As part of our complaint, we're releasing NYPD's own list of forms and reports, which shows plainly that a number of MuckRock requests have been improperly rejected as "vague" despite using the department's own language.
Associated Press reporters Matt Apuzzo and Adam Goldman summed it up perfectly last month: NYPD doesn't answer records requests.
"For the most part, they don't respond," Apuzzo told the Huffington Post. "Even the NSA responds."
It's not just reporters who've noticed NYPD's general non-responsiveness to records requests. NYC Public Advocate and mayoral candidate Bill de Blasio gave the agency a failing grade in an April report based on its dismal FOIL response rate.
As the result of our own experiences requesting NYPD records and a number of inappropriate rejections, MuckRock today lodged a complaint with the New York Committee on Open Government (COOG) against NYPD's Freedom of Information unit. Our complaint is based off a request MuckRock submitted in April for a list of handgun and concealed carry permits within NYC for the past five years.
MuckRock's request was based off of NYPD's own permit application, so it is difficult to imagine a more targeted request, particularly since we also included a date range. But after nearly a month's silence, NYPD Lieutenant Richard Mantellino rejected the request as unduly vague. The rejection letter did not broach any of the privacy issues that a records officer might feasibly invoke for these controversial records, but asserted only that the request "does not reasonably describe a record in a manner that would enable a search to be conducted."

This is not the first time that NYPD has rejected a request as inadequately descriptive on dubious grounds.
For instance, this past April the NYPD FOIL unit rejected a request from a MuckRock user for weapons discharge reports, which Lieutenant Mantellino also determined was not adequately descriptive. The finding that this request is inadequately descriptive is odd, given that NYPD officers and their peers in nearly every law enforcement agency in the country are required to submit firearms discharge reports each time they fire their weapons. The requester even cited relevant case law, but the NYPD FOIL unit determined that the request was not adequately descriptive.
Conveniently, New York law requires every agency to maintain a listing of all records it maintains organized by subject matter. Frustrated as we were by NYPD's insistence that our users' requests were not adequately descriptive, we requested this subject matter list to help us hone our language.
Now, New York law requires each agency to update this subject matter list on an annual basis, but NYPD sent us its copy for March 1999. They included no indication as to whether this is the most recent version. But even this outdated lists contains a gold mine of particular form titles, descriptions and even serial numbers.
According to the list, NYPD apparently keeps an eight-page list of useful Spanish phrases. Officers must request approval prior to visiting a carwash, and, as expected, file a report for weapons discharges along with an accompanying worksheet. There is a separate report for taser discharges, it seems.

Since NYPD's handgun permit is a recent addition to its paperwork file, it does not appear on this fourteen-year-old list. But it is clear that the department is rejecting requests on a dubious finding of vagueness, based on their dismissal of the request for weapons discharge report despite its explicit listing among basic forms all NYPD officers submit.
So, in addition to requesting an advisory opinion from the Committee on Open Government regarding NYPD's request processing and tendency to misplace mail, we've submitted some hyper-targeted requests based on the subject matter listing, and encourage you to do the same.
So far, we've asked for prisoner meal vouchers, stop-and-frisk reports and taser reports. And its Spanish phrasebook, investigative data reports and unusual occurrence reports, as well as for the current subject matter listing. To better guide NYPD records officers, we've even included the form number for each of these reports.
See something interesting in the subject matter listing? Submit a FOIL and let us know! We're confident that NYPD's records officers will thank you for your precision.
Submit a records request of your own by joining MuckRock today. Stay up-to-date on FOIA news by signing up for our mailing list, or by following us on Twitter and liking us on Facebook.