The Federal Trade Commission has a wide-ranging catalog of complaints lodged against digital library Scribd, from accusations of unauthorized charges and copyright infringement to claims that the website violated privacy, abetted libel and distributed unclassified FBI documents. One particularly conspiratorial and ALL CAPS allegation shouted of Scribd's collusion with a supposed serial killer.
A request from MuckRock user Robert Delaware unearthed 24 FTC complaints against Scribd, the oldest of which date back to 2009. The complaints fall primarily into two categories: there are individuals eager to flag unauthorized distribution of their copyrighted works via the Scribd platform, as well as users aggravated about unauthorized charges allegedly levied by Scribd.
One complainant from Appleton, Wisconsin claimed to have emailed Scribd six times after discovering three copyrighted works among the company's online collections. Only after the copyright holder traveled in person to Scribd's offices in San Francisco were the books taken down.
But the complainant was apparently told by Scribd CEO Trip Adler that it would take a judge's order to find out who removed the works in question from the site.

Complaints of unauthorized charges generally stemmed from users who believed they were signing up for a month subscription only to find their credit cards repeatedly charged for months or even the whole year.
In another instance, a user contended that she got repeated error messages after entering credit card information while attempting to purchase a book via Scribd. While she believed that her card had never been charged since she never received the product, she was dismayed to receive her statement and find her card had been run for a total of $179.85.
Many complaints outline vain attempts to reach Scribd by email or phone to resolve these issues.
Three individuals flagged privacy concerns over documents posted on Scribd, including one individual's Sprint bill and another's entire credit card ledger.

One complaint from Hawaii notified the FTC of an impending lawsuit should Scribd fail to remove certain allegedly defamatory documents concerning two attorneys.
Lastly, one enraged complainant accused Scribd of federal conspiracy with a supposed "SERIAL KILLER" to "LITERALLY, CRIMINALLY, MALICIOUSLY, AND VINDICTIVELY SHUT DOWN MY ESL DOCUMENTS."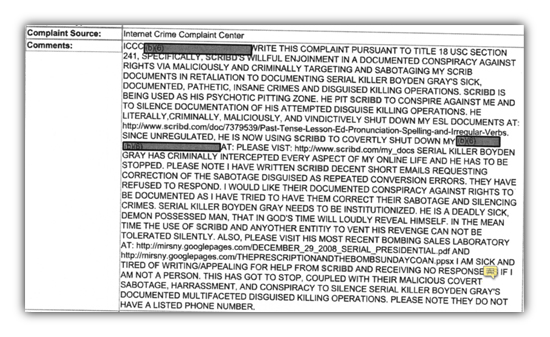 Read the full release embedded below, or on the request page.
---
Image via Wikimedia Commons