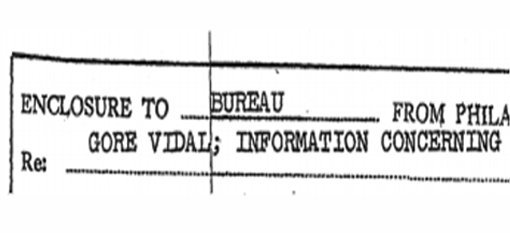 The FBI kept tabs on Gore Vidal's acid pen
J. Edgar Hoover took special exception to writer's criticism
As a leftist political critic and a relative of the Kennedys, Gore Vidal was practically destined to make enemies with FBI Director J. Edgar Hoover.
Based on Vidal's 35-page FBI file, which reads like an enumeration of the liberal author's slights against Hoover, it appears that the Director was determined to use Bureau resources to keep tabs on his foe.
FBI documents dating from 1960 to 1970 detail a number of criticisms that Vidal made against Hoover's law enforcement priorities, from the Bureau's poor record on civil rights to the persecution of communists. Federal agents and Hoover's cronies alike reported Vidal's activities to Hoover throughout the sixties, sometimes for the author's writings, other times for his TV and radio appearances.
However, the Bureau may have eyed Vidal well before 1960, when he unsuccessfully ran for a Congressional seat in New York. The file notes that Vidal published a novel, The City and the Pillar, about "the physical adventures of a male homosexual" in 1948 and that one of his associates attempted a trip to the Soviet Union in the mid 1950s.
One FBI agent also recorded a story in the Washington Post in which Vidal, "described as alcoholically exuberant, was requested to leave [a White House party] by Robert Kennedy. Vidal was reported to have stated, 'I'm going to destroy you.'"
According to the file, Hoover served as a reluctant private investigator to some Washington elites who requested information about Vidal to the Director. One such inquirer was Mildred Stegall, a loyal aide to President Lyndon Johnson. Hoover's office sent Stegall a two-page letter outlining Vidal's political activities and his increasing discord with the Kennedy family.
---
This piece is part of Subjects Matter: The FBI Files Project