Emails between the Federal Communications Commission and Booz Allen Hamilton show the power private corporations have to review and suggest redactions in responsive documents which detail their operations.
Under FOIA Exemption 4, federal agencies can redact information from released documents that might compromise "a trade secret or privileged or confidential commercial or financial information." In practice, this can admit a wide range of redactions, from descriptions of deliverables to line-item costs for the same, because such information might tip off competitors about a contractor's bid process.
Exemption 4 is deployed to support heavy redactions in many of the documents MuckRock received after we asked for dozens of federal agencies' contracts with Booz Allen Hamilton in the last five years. While these redactions often carry scant explanation of how a particular agency consulted with Booz Allen, released emails between Warren Firschein of the FCC and Erica Goode of Booz Allen offer a glimpse into the back-and-forth between agency and corporation.
A month after MuckRock's Michael Morisy filed the initial request, the FCC reached out to Booz Allen.

Goode responded ten days later and asked for a time extension to review the documents, noting that, "Some of the work we perform for the FCC is sensitive and we must be especially thorough when this information will be publicly posted on a news organization's website." She later added that her FOIA response letter would be submitted as "privileged and confidential."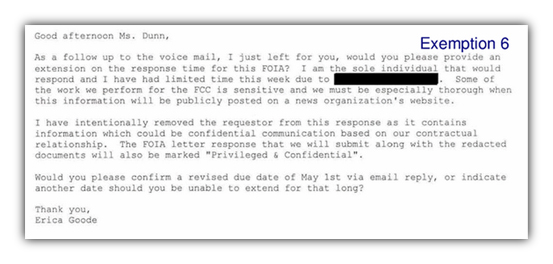 At this point, the FCC's lawyer, Firschein, joined the conversation directly. He granted the request for a time extension, but noted it had come at a late hour that put the FCC in a difficult spot due to FOIA's explicit deadlines.
"In the future, however, please do not wait until the last minute to request additional time, because it places all of us in an awkward position," Firschein chided back.
He also advised Goode that she need only make suggestions for redactions, and the FCC would follow up and actually physically redact the documents itself. As to the "privileged and confidential" designation for the FOIA response letter, Firschein explained that requesters have the right to see all responses from the contractor so they can reply or protest redactions.
"Therefore, please do not mark it 'confidential' and expect that it will be kept private," Firschein concluded.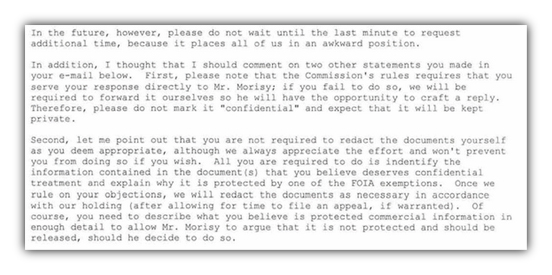 Despite two successive followups, Booz Allen did not respond for more than three weeks. On May 17, Goode apologized for the delay and explained, "The Muck Rock [sic] FOIA requests have escalated in nature and I am required to request the FCC provide copies of the documents which you intend to release for our redactions in lieu of me pulling them from my files which I had previously intended to do."
Again, MuckRock requested Booz Allen Hamilton contracts from dozens of federal agencies, so BAH reviewers were, presumedly, handling many requests at once.

Based on Firschein's response, it appears Goode attached files related to the MuckRock requests for Booz Allen Hamilton contracts from the Department of Defense and NASA.
"The FCC is a relatively small agency, with only a small number of contracts with Booz Allen, and we therefore don't have the same issues experienced by NASA and DOD," he replied. "That said, it sounds as if you wish to officially request an extention [sic] of time to respond to Mr. Morisy's request, in part because of the work that is involved for BAH to simultaneously review this and other identical requests that were filed across the federal government at the same time."

That extension was granted, and on May 24, Firschein wrote to MuckRock, "Yesterday, citing the 'high volume of similar requests for Booz Allen contracts across 70 government agencies,' Ms. Goode requested additional time, until May 31, 2013, to review the sought-after contracts prior to their release. Despite the expiration of the initial time limit to respond, we believe that the most vital consideration in a FOIA such as this one is to ensure that confidential company information is not accidentally disclosed publicly."
Goode emailed Firschein late on May 31 to let him know she would file that day, but probably not by 5 p.m. However, based on later correspondence, it appears that she never offered a full suggestion for redactions.
Firschein wrote to Goode on July 3, noting that though the FCC had tried to reach her multiple times, she still had "not provided any input as to what information is contained in the sought-after documents that Booz Allen considers to be privileged and confidential pursuant to FOIA Exemption 4." If she did not reply by July 10, Firschein explained, the FCC would process MuckRock's request without Booz Allen Hamilton's input.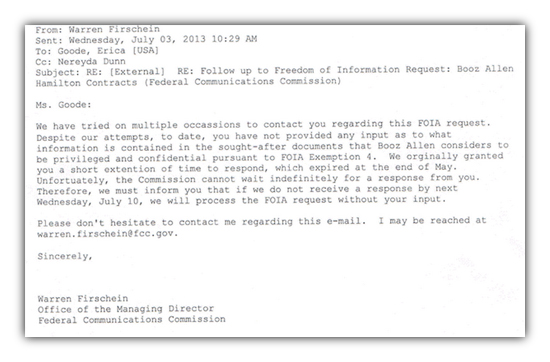 The FCC sent MuckRock the contracts in question on August 19. As to Exemption 4, an FCC associate managing director explained, Booz Allen Hamilton never provided a response. Still, the FCC had the right to "on its own motion determine that materials should be withheld from public inspection." So, some information in the documents (for example, labor rates) was nevertheless redacted because it was "likely to cause substantial harm to Booz Allen's competitive position."
MuckRock encourages anyone seeking public records to file follow-up requests for processing notes related to their requests, regardless of outcome. The emails and other memos can serve as a good guide for future requesting, and it can shed critical light on how FOIA is handled within different federal agencies.
The first release is embedded below, and the rest can be found on the request page.
---
Image via Livestream.com